A "beary" good reason to celebrate World Cup season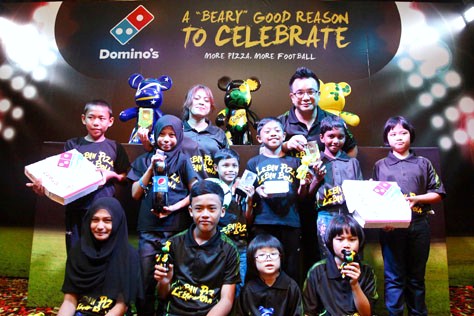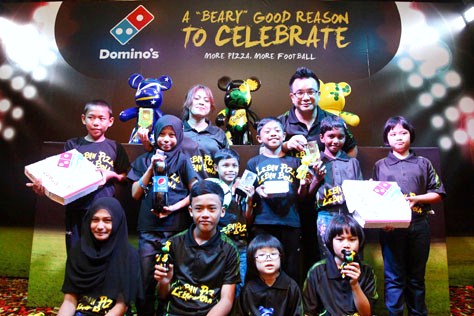 PETALING JAYA – To celebrate the World Cup 2014 football season, Domino's Pizza Malaysia introduced its latest collectible premium named Popobe® Bola Bears by Domino's which will be available as an add-on to "Bola Meal" deals in conjunction with its More Pizza More Football campaign.
Domino's Pizza Malaysia and Singapore president Ba U Shan-Ting kicked off the launch at Tropicana Golf & Country Resort in Petaling Jaya on June 11, 2014.
"Malaysians will get to collect Pedro, Juan and Eva, the limited edition Popobe Bola Bears by Domino's. These perfect football companions will only be around for six weeks so be sure to collect all three of them while stocks last," he said.
The pizza maker invited underprivileged children from two homes – the Good Samaritan Home, Klang and Rumah Anak Yatim Sungai Buaya, Kuala Langat to celebrate the launch event.
Ba presented prizes to the weekly winners of its recently organised Domino's Kickoff Online Contest which ran from April 28 – June 1. The grand prize winner Peck Chin Fai received an all-expense paid trip for two to Brazil worth more than RM34,000.
From now until July 20, the custom designed limited edition vinyl bears can be purchased as an add-on for RM7.80 each to any "Bola Meal" purchase or RM9.80 each with any other pizza purchase.
Along with the promotion, those who want to win exclusive prizes can take part in the "Bear-A-Selfie" Instagram Contest by simply taking a selfie with their Popobe® Bola Bear and post it on Instagram with the hashtag #bolabears.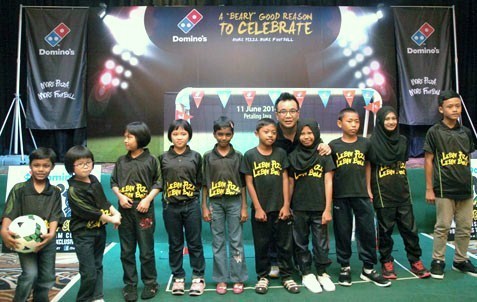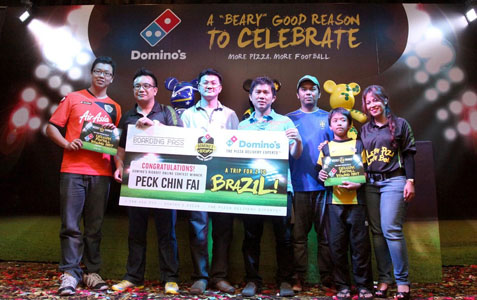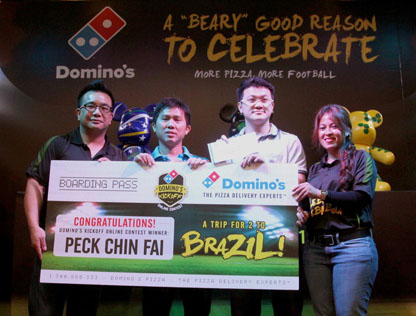 Bola Meal 1 comes with two regular pizzas and a 1.5 litre soft drink bottle for RM34.00 and Bola Meal 2 comes with the new BBQ baked meatballs and two regular pizzas for RM38.00.
With Bola Meal 1, one can also opt for large or extra large pizzas with a 1.5 litre soft drink bottle for RM54.00 or RM74.00 respectively. For Bola Meal 2, the large or extra large pizzas with a serving of meatballs are priced at RM58.00 or RM78.00 respectively.
To find out more details about the Popobe® Bola Bears by Domino's and Bear-A-Selfie Instagram contest, please visit facebook.com/DominosMY
________________________________
All news posted on this website are written by Malaysians from all walks of life who are trained by Citizen Journalist Malaysia. If you are passionate about writing, photography or  video storytelling and would like to contribute your articles, photographs or videos of events that is happening in your community, please (CLICK HERE)
________________________________
For more updates, please like us on Facebook