Timber truck endangers villagers of Kg. Punang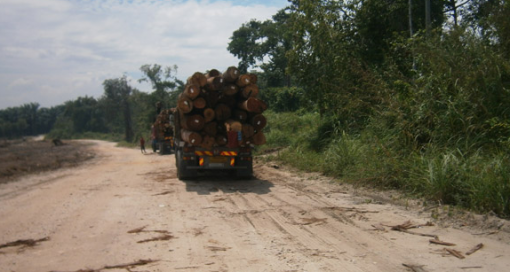 Villagers in Kampung Punang and the vicinity are concerned about the danger and damage wreaked by an overloaded timber lorry driven over the speed limit at an oil palm smallholding.
According to The Borneo Post, the lorry was frequently seen entering the area about 2km from their village.
This road, which is narrow and meant for small vehicles only, enables the villagers to access the main road to Lawas town or to their orchards.
The villagers also complained that the overloaded lorry damages the road, which makes it difficulty for them to get to their orchard especially during the rainy season.
There some 60 lots of oil palms owned by smallholders in Kampung Punang who work on the oil palm project under the Youth Agriculture Project of the village at the orchard road heading to Sungai Bangat.
The matter was brought to the relevant authority last week but with no response so far.
________________________________
All news posted on this website are written by Malaysians from all walks of life who are trained by Citizen Journalist Malaysia. If you are passionate about writing, photography or  video storytelling and would like to contribute your articles, photographs or videos of events that is happening in your community, please (CLICK HERE)
________________________________
For more updates, please like us on Facebook