Underground tunnel at Jalan Imbi cross junction collapse
An underground tunnel which was still under construction collapsed when the soil at the construction-site silted in Jalan Imbi.
The Kuala Lumpur Fire and Rescue spokesman said due to the incident at 10.30 am, the route along Jalan Imbi has sunk for over 19 meters but no casualties were reported.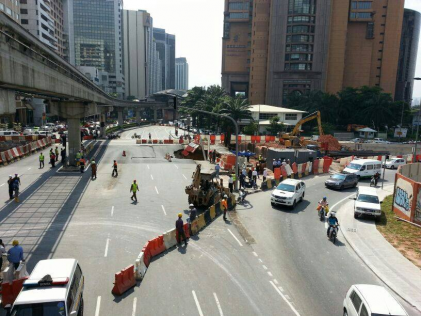 "Initial reports indicated it was likely due to broken large pipe, but the investigation is still ongoing," he said at the scene.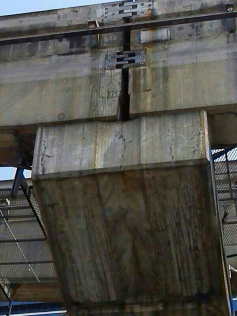 Following the incident, KL Monorail services from Hang Tuah station to Imbi station had to be stopped because the sink hole caused by the collapse of the tunnel is close by to the monorail pillars at the cross junction in Jalan Imbi.
According to a tweet sent out by Integrated Transport Information System (ITIS), the roads towards and from Jalan Imbi and Jalan Pudu to Jalan Hang Tuah has been closed.
Road users has been advised to take alternative routes.
The collapsed underground tunnel is located less than 100 metres away from Berjaya Times Square.
Mass Rapid Transit Corporation Sdn Bhd (MRT Corp) earlier released a response  stating that  the incident is not related in any way to the MRT Project.
According to the media release sent out, the alignment of the MRT Sungai Buloh-Kajang Line does not pass that location and had asked motorists to heed the traffic diversions implemented by Dewan Bandaraya Kuala Lumpur and the Police.
________________________________
All news posted on this website are written by Malaysians from all walks of life who are trained by Citizen Journalist Malaysia. If you are passionate about writing, photography or  video storytelling and would like to contribute your articles, photographs or videos of events that is happening in your community, please (CLICK HERE)
________________________________
For more updates, please like us on Facebook