Local residents and MPS take down illegal buntings in Rawang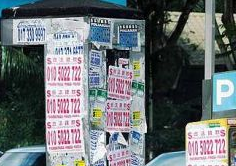 Local residents associations and Selayang Municipal Council (MPS) enforcement personnel got together to take down illegal bunting in several roads in Bandar Country Homes in Rawang as a pre-Ramadan clean-up recently.
The clean-up started with the MPS enforcement personnel briefing the 30 residents on how to remove the buntings and distributing some tools for the job at 8.30am at the new Bandar Country homes police station along Jalan Desa Jaya.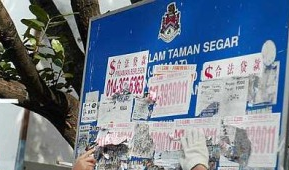 The 30 residents and MPS personnel were divided into two groups to take on both council and Public Works Department (JKR) roads.
The clean-up lasted for three hours, and was focused on buntings and other illegal advertisements such as those posted or nailed on trees and lamp-posts.
All in all, the two combined residents-MPS groups took down over 500 pieces of advertisments and illegal buntings, and passed on some of the numbers pasted to the MPS enforcement officers for further action.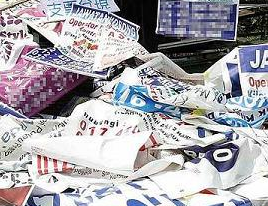 MPS councillor for Bandar Country Homes, G. Gunaraj said that they are trying to schedule another day to clean-up the other roads, especially the roads near D'Palma apartments and Aeon Anggun Rawang.
The two groups collected over 500 pieces, and passed them to the MPS personnel to be disposed.
MPS enforcement personnel were also seen taking pictures of the illegal ads, and said they would be forwarding the pictures and details of the company to MPS Legal Department for further action.