Fire broke out at One Utama Shopping Centre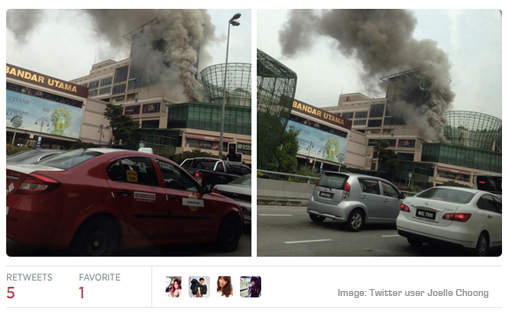 A minor fire broke out at One Utama Shopping Centre's Food Republic food court in the new wing of the shopping mall at Bandar Utama this morning.
The large plume of smoke rising from the shopping centre caused a traffic crawl along the nearby Damansara-Puchong Expressway (LDP) as curious motorists slowed down to watch .
Following the hype over social media, One Utama management has released a statement on the incident.
According to the statement released on their Facebook page, a small fire took place in a kitchen of a food court stall around 9.00am this morning and they also clarified that this was not a major incident and just a small fire breakout.
The statement also added that, when it took place, the mall's water sprinkler system took effect immediately and the small fire was effectively contained and extinguished within the kitchen itself in minutes.
The fire did not spread to other stalls or other areas of the mall. Kindly note that there was no major damage, and the Bomba authorities arrived just to check on the situation.
The management is waiting for a report on the cause of the fire and will conduct an inquiry into the matter.
No one was hurt in the incident and mall is open and safe to visit.
________________________________
All news posted on this website are written by Malaysians from all walks of life who are trained by Citizen Journalist Malaysia. If you are passionate about writing, photography or  video storytelling and would like to contribute your articles, photographs or videos of events that is happening in your community, please (CLICK HERE)
________________________________
For more updates, please like us on Facebook