Buka Puasa treat for orphans from Rumah Amal Suci Rohani at eCurve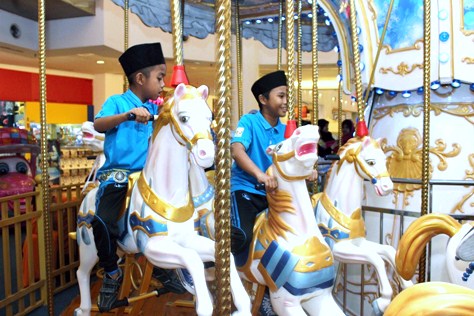 In conjunction with the holy month of Ramadan, eCurve shopping mall in Mutiara Damansara, Petaling Jaya believes in spreading love and sharing the joy of giving to the less fortunate.
It organised a special Buka Puasa event on July 7, 2014 for 20 orphans from Rumah Amal Suci Rohani, Bandar Utama in Petaling Jaya, a charity home for orphans and poor children with special needs.
Upon arrival at the mall, the activities began with the orphans treated to a fun session of games and rides at CP Arcade.
The children and their caretakers were then led to the mall's Centre Atrium which has been transformed itself into a beautiful rainforest with lush greenery and blooming Rafflesias, wild orchids and pitcher plants.
A lively Mekar Raya dance performance by eight dancers dressed in colourful costumes reminiscent of flowers and butterflies drew a chorus of oohs and aahs from the children as the group of dancers entertained the rapt audience with a mix of contemporary and traditional choreography set to a rhythmic beat.
After that, eCurve centre manager Azizul Hisham and the management team presented the young guests with duit raya as well as Raya goodies.
"We hope that this special buka puasa treat has helped make this Ramadhan a memorable one for the children," Azizul said.
The management team spent some time with the orphans and it was really good to see the sweet smiles on the children's faces.
As the evening drew close to the Ramadan breaking fast moment, Azizul and the management team gathered to break fast together with the children and the rest of the guests at The Manhattan Fish Market restaurant located at the ground floor of eCurve.