A grand finale at Domino's football final viewing party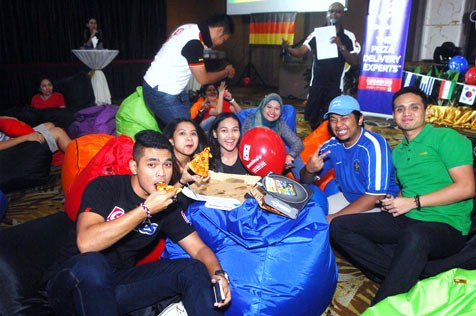 Domino's Pizza Malaysia hosted an exclusive pizza party for over 100 football fans to catch FIFA World Cup 2014 final match between Germany and Argentina on giant screens at Tropicana Golf and Country Resort, Petaling Jaya.
The lucky people at the viewing party consisted of five winners of first runner-up of the recently ended Domino's Kickoff Online Contest (from period April 28 – June 1, 2014) and 20 each of their friends and family members.
Domino's Pizza Malaysia and Singapore senior marketing manager Hasfahlinda Hassan said the aim of the viewing party was to reward loyal customers for their strong support of 'More Pizza, More Football' campaign launched in conjunction with the World Cup 2014 tournament.
"Football is a game that brings Malaysians together. We are pleased to share our passion for the beautiful game with our customers at this uniquely Domino's event.
"It is also a way for us to connect with our customers on another level through the world's most popular game.
"This has been an incredible football season for everyone and we are glad to have been able to celebrate it with our fans," he said.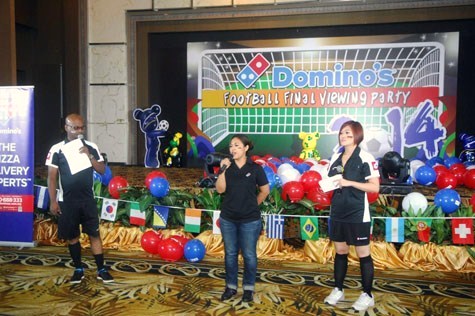 The festivities kicked off at 11 pm with the fans treated to pizzas, complementing the pizza maker's "More Pizza More Football" campaign.
While waiting for the final match to kick-off at 3 am, they showed off their skills at the various football-related games and activities and got plenty of freebies.
There were also 'beanbag' chairs provided for added watching comfort during the live match.
The atmosphere was one of excitement and merriment as the guests enjoyed the pizza offerings while their eyes were transfixed onto the live broadcast of the clash between the two football giants.
The finale captured all of the night's nail-biting moments drawing cheers and shouts from their supporters as the German and Argentinean players played their hearts out for 30 more minutes in extra-time and when the final whistle blew and Germany emerged as Champions of the World, defeating Argentina 1-0.
Sze Leng Cheu, 26, one of the runner-ups at the viewing party said the event was a great experience for him to watch the beautiful game between the two great football nations
"It gave me a chance to bond with my family and friends. I also got the chance to make new friends who share the same passion as I do. It's not often that I get a chance to watch a game with so many fellow fans," he said.
Another fan Isaac Tan, 33, said he has been looking forward to the great game since the announcement was made.
"Thanks to Domino's for giving me the opportunity to enjoy this unique experience. I am very attracted to the party atmosphere here, especially the 'beanbag' chairs which were prepared for our comfort," he said.