Frequent road accidents, residents urge local authority to act immediately
The infamous intersection which is located at Jalan Persiaran Molek Utama and Jalan Molek 2/1 and Jalan Molek 2 has always been a major concern to the residents of Taman Molek, who need to use the  junction daily.
It has been known that each week there is bound to have a traffic accident and this scenario is not getting any better.
According to Thomas Wang, 52, the proprietor of a coffee shop operating near the intersection told CJMY,   he has ever seen five road accidents happening at the same t-junction in just one week and the latest one was kust 3 days ago involving a car and a motorcycle.
The motorcyclist sustained serious injury and blood was seen flowing out from his mouth whereas the car driver escaped unhurt, he added.
Over the years, Thomas said, he has witnessed many such road accidents at this tricky junction while a few were fatal.
Adding, he said, many of the road accidents were caused by road users who were unfamiliar with the area and unaware of the tricky t-road junction.
The local authority should seriously consider installing traffic lights and road dividers at the t-road junction as soon as possible to reduce the rate of road accidents, said Thomas.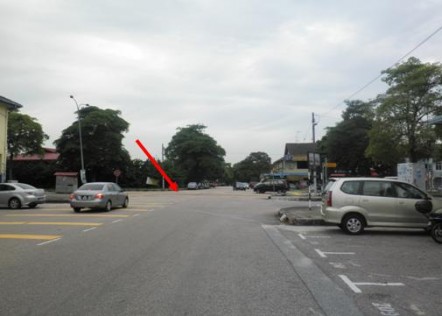 Khoo Lian Chuan, 37, a resident who has been living in Taman Molek for the last nine years shared Thomas's view and urged the local authority to take immediate action to make the t-road junction safer for motorist to use.
It is said that Taman Molek has the highest concentration of banks in the country for a fairly small residential housing area comprising 17 local and foreign-owned banks.
This would be one of the contributing factor to the heavy traffic flow in the area.
During peak hours, an estimated 120 cars used the said t-junction hourly.
Currently, the t-junction is marked with yellow boxed lines and speed reducing yellow stripes which does not help to address the problem effectively judging from the frequent road accidents in the area.