Finalists revealed for Miss Malaysia World 2014 pageant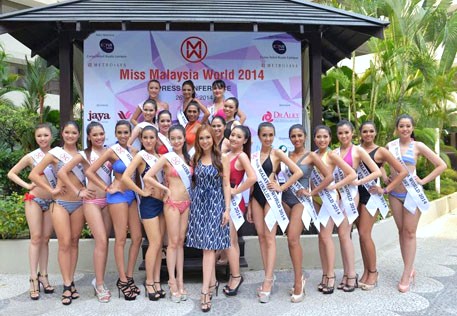 For the Miss Malaysia World 2014 pageant, thousands of applicants applied for a chance to shine at the glamorous and prestigious pageant in Malaysia.
Only 21 girls were finally chosen and this was announced at a packed preview and press launch held at the swimming pool area of Corus Hotel, Kuala Lumpur on July 26, 2014.
All the lovely candidates paraded in their swimsuit in front of the media.
Miss Malaysia World 2013 Melinder Kaur Bhullar and first runner-up L'oreal Mok graced the press launch.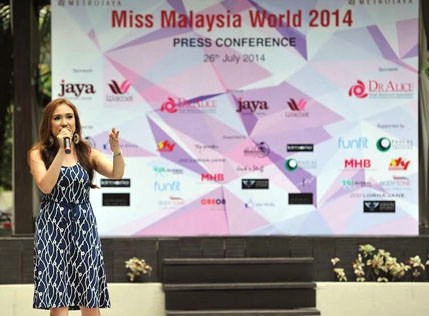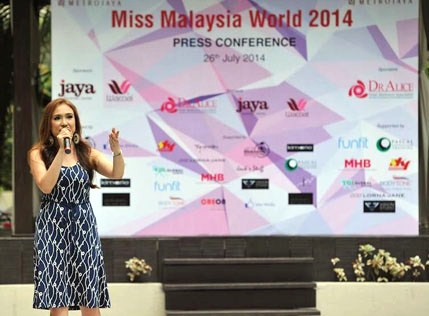 "We are excited to announce that the finalists chosen for this year's pageant are as stunning and intelligent as they are beautiful – all of the qualities I look for in a beauty queen," said Miss World Malaysia 2014 official licensee and pageant organiser Dato' Anna Lim.
The grand final will take place on August 30 at Corus Hotel, the pageant's main co-sponsors and official hotel.
The crown winner will take home cash and prizes worth up to RM50,000 and will represent Malaysia at the Miss World 2014 pageant finals in London on November 2014.
A former beauty queen herself who won Miss Malaysia Universe 1990 and Mrs. Malaysia World 2004, Dato' Anna Lim personally selected the finalists, lending her experience and knowledge on what it takes to be a successful beauty queen.
She said the finalists were chosen based on their ability to carry themselves confidently and their personalities as well as how well they represented the pageant theme of Beauty with a Purpose.
"Miss World 2014 has very high standards and I am committed to uphold those standards.
"Winning the pageant is not going to be an easy task for the finalists as each and everyone of them are worthy opponents in their own right. They will each need to convince our panel of judges why they deserve the crown, and how they are able to embrace what the pageant really stands for – Beauty with a Purpose," she said.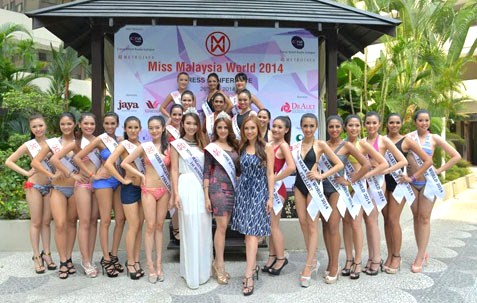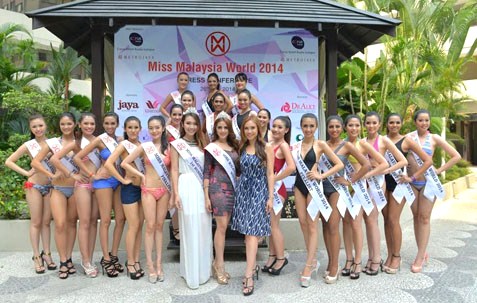 Beauty with a Purpose is the ongoing theme for the Miss World pageant. The crown is now synonymous to offering a helping hand, by way of activities like fundraising and others to improve the lives of those who are less fortunate.
The finalists will check into Corus Hotel on August 23 where a team of professionals will help prepare them for the grand final. During this period, they will learn and enhance many skills, from grooming and walking down the runway, to styling and personal enrichment.
Twelve subsidiary title awards will be presented on August 29, a day earlier before the grand final which will include a swimsuit competition, an elegant evening wear round and a Q&A session for the final five before the crown winner is announced.
All news posted on this website are written by Malaysians from all walks of life who are trained by Citizen Journalist Malaysia. If you are passionate about writing, photography or  video storytelling and would like to contribute your articles, photographs or videos of events that is happening in your community, please 
(
CLICK HERE
)
________________________________
For more updates, please like us on Facebook