Five beauty queens crowned at MGIM 2014 finals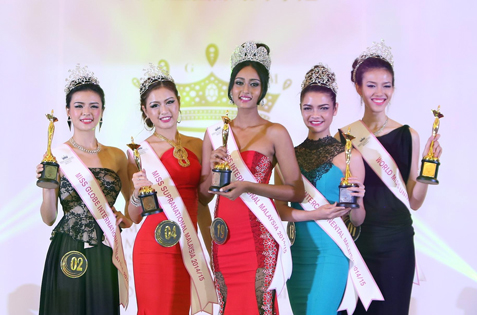 It was a star-studded night to remember for everyone at the Miss Global International Malaysia 2014 (MGIM 2014) grand finale gala night at DoubleTree by Hilton Hotel on August 17, 2014.
Five beauty queens were crowned with five coveted grand slam and major international titles.
Jayarubini Sambanthan, a 22-year old accounting and finance undergraduate student from Kuala Lumpur have won the coveted Miss International Malaysia 2014 title and will represent Malaysia at the world level in Tokyo on November 11, 2014.
Standing at 174 cm tall, Jayarubini who also won the Miss Body Beautiful Strip subsidiary title cemented her win after giving her best inspiring answer to the question, "People relate beauty queens to role models, what is your take on this?
"I believe beauty queen is not just a pretty face, she is someone with respect and dignity, someone that the nation and future generation will look upon as a role model. Someone who will give back to society, someone you and I can call she's ours, she's Malaysian," answered Jayarubini to loud applause and cheers from the audience.
Audrey Loke, a 22-year-old interior designer and blogger from Selangor clinched the grand slam title Miss Supranational Malaysia 2014 and will be heading to the world finals in Poland on December 5, 2014. She also won three subsidiary titles of Miss Charm International, Miss Face Perfect and Miss Talent.
The other three prestigious major titles – Miss Intercontinental Malaysia 2014 was won by 20-year-old Nicole Bungan from Miri who will represent Malaysia at the upcoming world final at Jordan on October 27, 2014.
Wendy Foo, a 20-year-old freelance model from Johor took home the Miss Globe International Malaysia title as well as Miss Personality subsidiary title while 22-year-old medical student Naomi Sim from Kuching won the World Miss University Malaysia title.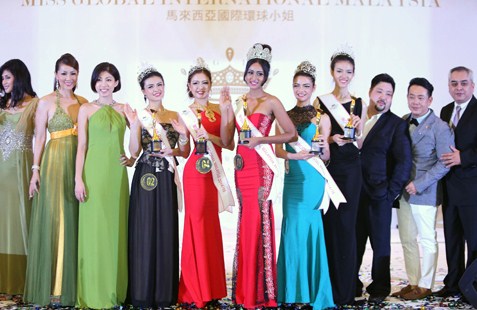 The dates for the world finals of Miss Globe International at Albania and World Miss University at South Korea are not yet confirmed.
There were ten subsidiary titles awarded.
"The winners have inspired us with all the qualities that a beauty queen stands for and we are excited to see them representing Malaysia on the international stage," said  co-organiser MerveilleuxM Production managing director Marlene Lim.
The panel of judges include veterans in the industry, Carol Lee (first Malaysian and Asian to win Mrs Universe 2013 in Aruba) and Rahima Orchient Yayah (Miss Malaysia World 1994 Winner, Top 10 Miss World 1994) who looked for qualities of inner and outer beauty, confidence, strong character and excellent communication during the competition.
Organised by MerveilleuxM Production and Peoplegraphy Studio with event title franchise holder ERM Marketing, the MGIM pageant is aimed at empowering women, celebrating the beauty, diversity and culture among young Malaysian talents.
The competition has supported many non-governmental organisations and part of the fund raised will be channelled to Persatuan Autistik Miri, which MGIM has been supporting for the past two years.
List of MGIM 2014 Winners
Miss International Malaysia – Jayarubini Sambanthan, 22, student
Miss Supranational Malaysia – Audrey Loke, 22, interior designer/blogger
Miss Intercontinental Malaysia – Nicole Bungan, 20, freelance model
Miss Globe International Malaysia – Wendy Foo, 20, student
World Miss University Malaysia – Naomi Sim, 22, student
Subsidiary Title Awards
Miss Body Beautiful Strip – Jayarubini Sambanthan, 22, student
Miss Perfect Face – Audrey Loke, 22, interior designer/blogger
Miss Charm International – Audrey Loke, 22, interior designer/blogger
Miss Photogenic – Serene Chai, 19, freelance model
Miss XES Elegant – Mico Pun, 22, freelance model
Miss Personality – Wendy Foo, 20, student
Miss JD Personality – Serene Chai, 19, freelance model
Miss Congeniality RedOne – Mico Pun, 22, freelance model
Miss Talent – Audrey Loke, 22, interior designer/blogger
Miss Popularity By Delirium – Mico Pun, 22, freelance model
________________________________
All news posted on this website are written by Malaysians from all walks of life who are trained by Citizen Journalist Malaysia. If you are passionate about writing, photography or  video storytelling and would like to contribute your articles, photographs or videos of events that is happening in your community, please (CLICK HERE)
________________________________
For more updates, please like us on Facebook