ATV Miss Asia Pageant Malaysia finalists to raise awareness on breast cancer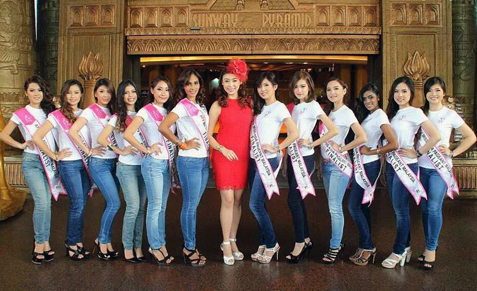 The ATV Miss Asia Pageant Malaysia has partnered with Breast Cancer Welfare Association Malaysia (BCWA) to raise awareness on the breast cancer.
"We are glad to partner with BCWA to provide support for women with breast cancer and the finalists will dedicate their time to a charity drive to support all the women in need.
"There will also be visit to orphanage to give the finalists a good experience and learn more about the values of life, and collaboration with animal shelter home to support their pet adoption drive campaign," said ATV Miss Asia Pageant Malaysia franchise owner and organiser Amelia Liew.
The top 12 finalists of ATV Miss Asia Pageant Malaysia 2014 were officially introduced to the public and media at a packed press conference at Delicious Café in Sunway Pyramid shopping mall, Petaling Jaya on August 28, 2014.
Liew added that the pageant journey which begins now to the grand finale on Sept 12 will be a fun and memorable one for the finalists.
"Throughout this journey the girls will be learning a lot of things not only mentally but also physically, not only being beautiful on the outside but also inner beauty as well," said Liew.
The finalists will undertake various activities, training  and workshops such as makeover, grooming and fitness to prepare them for the final battle.
A mock cheque presentation for RM100,000 from the pageant's main presenter Elken Malaysia was held together with the press conference.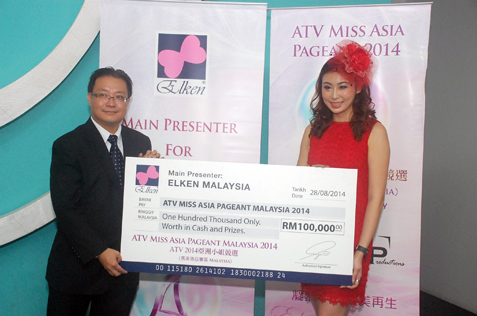 The finalists later made their way to the mall's main entrance and got on the KL Hop On Hop Off bus parked outside for photo session.
The KL Hop On Hop Off bus is the official transporter for the contestants during the pageant from Aug 31 – Sept 12.
The ATV Miss Asia Pageant 2014 Malaysia grand finale will be held on Sept 12 at JW Marriott Kuala Lumpur.
Total cash and prizes are worth RM100,000 and each finalist will take home RM6,500 worth of prizes.
The winners will be picked by a panel of international competition judges, including from Hong Kong, Vietnam and Malaysia.
Liew, who is the pageant's production director said the winner and first runner-up will represent Malaysia for the international grand finals in Hong Kong in November. They will be joined by national pageant winners from other Asian countries to compete for the crown of ATV Miss Asia 2014.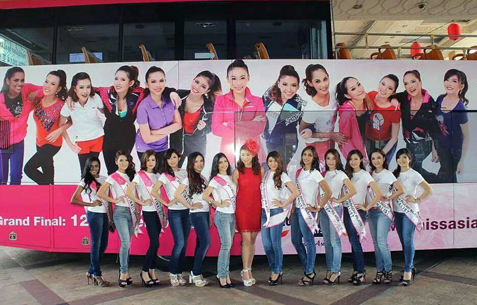 Leanndrea Anne Paramaraj, 23, Geethananthini Paramasivam, 25, and Jasmine Soo, 22, are among the 12 contestants who have made it to the final list.
"I find it challenging to prepare myself for the finals but I believe it is worth it," said Leanndrea, a freelance model of mixed Indian and Eurasian blood.
She joined the pageant for several reasons which are to expand her modeling career and social network, to rediscover herself and to challenge herself to different levels.
Pageantry has improved her self-confidence. She has won several pageant titles, including Miss India Princess 2012 where she represented Malaysia in Mumbai for the international pageant and second runner-up of Miss Wilayah Kebaya 2013. She was also a finalist of Miss Universe Malaysia 2012 and Miss Malaysia Kebaya 2013.
On her free time, she loves hanging out with friends, working out at the gym, dancing, singing and playing the piano. She wants to be a music teacher in the future and hopes to have her own business of running an event company.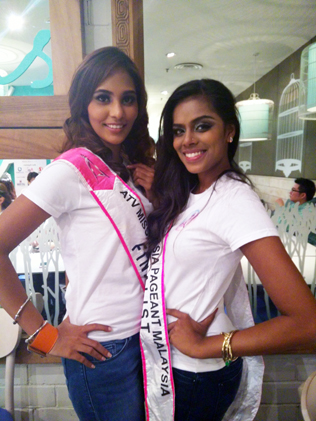 For Geetha from Kuala Lumpur, she is excited being selected for the finals.
"I find this as an exciting and challenging opportunity to prepare me to take on greater challenges in the future.
"I am sure that I will gain more experience and exposure from the pageant," said Geetha.
She believes pageants provide a platform for contestants to gain exposure and improve themselves such as building their confidence level and brushing up their public speaking skills.
Like Leanndrea, Geetha is no novice to pageants having participated in several pageants including Miss Kebaya Selangor 2013 (first runner-up), Putrajaya Model Search 2013 (second runner-up) and Global Indian Festival Model Search 2013 (fourth runner-up).
Geetha is an accounts assistant. She hopes to one day own an accounting firm and brings her own entrepreneurial and management skills to work.
Her hobbies include reading and swimming.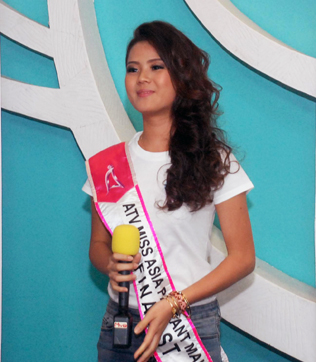 22-year old Jasmine Soo from Selangor is a print ad model. She was first runner-up of Miss KL Chinatown 2013, winner of Miss Beautiful Smile subsidiary title in Miss Selangor Kebaya 2013 and a finalist of Miss Chipao Malaysia 2014.
Soo hopes her participation in pageants will bring her confidence to international levels.
She aspires to be a successful singer or artiste in the entertainment industry in the future.
"I might be small in size but shine bright on stage," she said.
ATV Miss Asia Pageant Malaysia 2014 finalists
The top twelve finalists are:
1.   Jasmine Soo, 22, print ad model
2.   Michelle Loh, 24, asst. marketing manager
3.   Mabel Chan, 24, asst. relationship manager
4.   Jacinda Rae Webb, 21, student
5.   Daphny Chen, 21, student
6.   Leanndrea Anne, 23, freelance model
7.  Joey Chung, 20, student
8.   Beatrice Lee, 22, video editor
9.   Justina Au Yong, 25, freelance model
10. Geetha, 25, accounts asst.
11. Vernice Low, 24, student
12. Anita Lee, 22, student
Semua berita dari laman web ini adalah hasil sumbangan rakyat Malaysia dari pelbagai lapisan masyarakat. Jika anda berminat untuk lebih mengetahui mengenai kursus penulisan dari Citizen Journalist Malaysia atau ingin menyumbang artikel anda, sila (KLIK SINI)
________________________________
All news posted on this website are written by Malaysians from all walks of life who are trained by Citizen Journalist Malaysia. If you are passionate about writing, photography or  video storytelling and would like to contribute your articles, photographs or videos of events that is happening in your community, please (CLICK HERE)
________________________________
For more updates, please like us on Facebook