Wong Loo Sen See Temple in Cheras holds first blood donation drive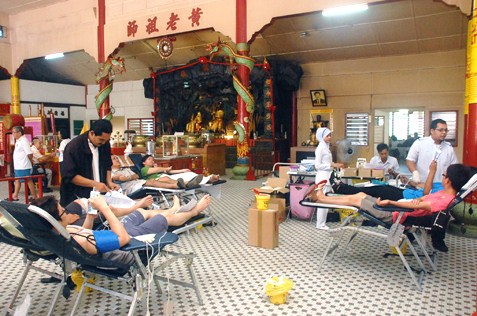 The Wong Loo Sen See Chee Choong Temple in Cheras, Kuala Lumpur held its first blood donation drive on the temple premises on August 24, 2014 and successfully collected 63 packets of blood to support the National Blood Bank.
The effort to get people to donate blood to save lives was organised by the temple with the support of Pfizer Malaysia and Tzu Chi Foundation Malaysia.
A total of 96 people registered and went through the screening for blood donation and only 63 donors were accepted to donate their blood.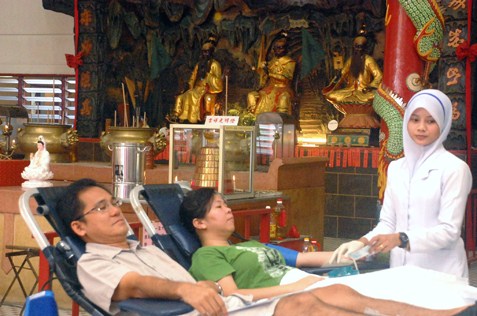 How Joon Wai, president of the temple said: "We are happy with the good response to our first blood donation drive campaign and we had 63 packets collected from the donors. We hope the blood donation drive will create greater awareness on the importance of donating blood in saving lives."
He thanked everyone for the support received.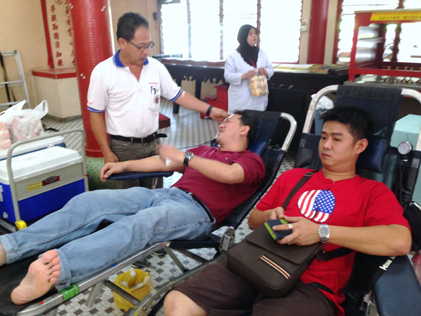 Medical staff from Pusat Darah Negara (National Blood Centre) were on hand to coordinate the blood donation together with Tzu Chi volunteers.
There was also a health check by employee volunteers from Pfizer Malaysia Care-A-Van community programme.
The Pfizer Care-A-Van team provides general health screenings involving blood pressure and eye check and height and weight check, among others.
Devotees who visited the temple also donated blood as a pious act and a noble cause towards saving a person's life.