Celebrating the birthday of deity Huat Chu Kong in Teluk Intan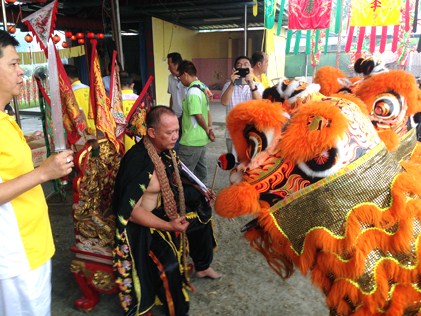 The deity Fa Zhu Gong (known to Hokkien as Huat Chu Kong) celebrated his birthday on the 23rd day of the seventh month of the Chinese lunar calendar which was on August 18, 2014.
In Teluk Intan, Perak, devotees converged on the Fa Zhu Gong Temple to pay their respects with prayers and special offerings of mee koo (red tortoise buns), ang koo (red tortoise cakes), huat kueh (steamed cake) and whole roast pigs placed on tables in front of the altar, outside the main area of worship.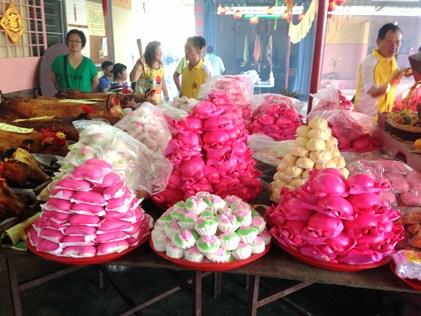 Religious rituals and prayers were held at the temple. There were also Chinese opera performance at a temporary stage to entertain the deities, lion dance performance and setting-off firecrackers.
The temple which started 27 years ago is dedicated to the main deities who are collectively addressed as "Fa Zhu Gong, the Three Holy One" or the 'Three Brothers of Huat Choo Kong".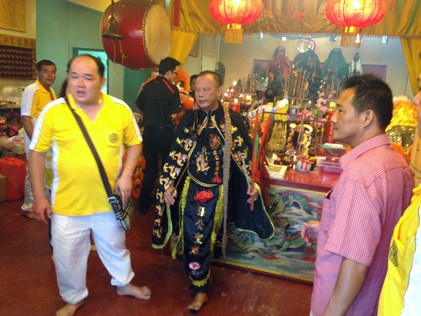 At the altar are three main deities who are differentiated by the colour of their faces. In the centre is the black-face deity known as Zhang Gong Sheng Jun (or Fa Zhu Gong). On the left is the red-face Hong Gong Sheng Jun and on the right is the green-face Xiao Gong Sheng Jun.
Fa Zhu Gong is worshipped for his readiness to help those in need, particularly for his superior prowess to drive out devils and demons from possessed people and ending their woes.
The temple holds spirit-medium consultations in the evening to people who seek Fa Zhu Gong's advice on various problems.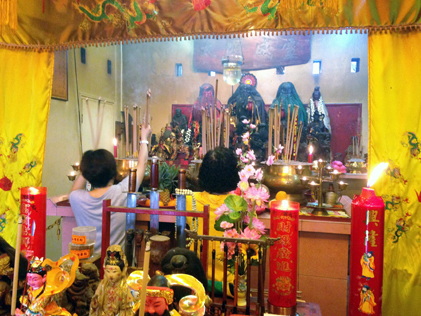 According to legend, Fa Zhu Gong was born on the 23rd day of the seventh lunar month in the year 1139AD (some said 1024AD) during the Song dynasty in the village of Yongtai county, southeast China's Fujian Province.
The Taoist mystic warrior fought with a devilish demon and five devil spirits in the forest for seven days and seven nights until his face turned black. In the end, he lost the fight, was captured and imprisoned in a cave guarded by the five devil spirits.
Fa Zhu Gong was to be burnt alive by his captors when his two sworn brothers Zhang Zhen ("Hong Gong Sheng Jun") and Xiao Xin ("Xiao Gong Sheng Jun") arrived in the nick of time to save him.
Zhang Zhen tried to blow away the rocks blocking the cave entrance but one of the flying pieces hit Fa Zhu Gong's head which became swollen. He felt so bad and embarrassed till his face turned red.
Xiao Xin became very angry till his face turned green.
After freeing Fa Zhu Gong, the trio fought ferociously together and overcame the five devil spirits who turned themselves in and became protection assistants to the three brothers.