'Larger Than Life' musical hits the stage for charity at KLPAC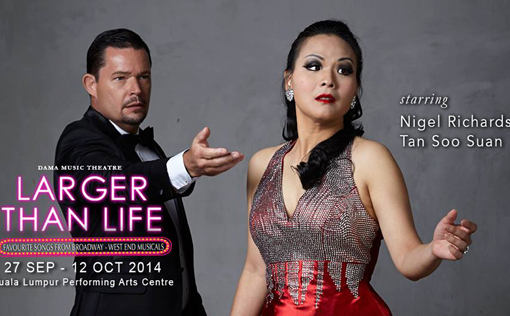 A Broadway and West End musical called Larger Than Life will be held at the Kuala Lumpur Performing Arts Centre in Jalan Strachan on October 11 to raise funds for charity.
The Broadway is a two-hour musical extravaganza performed live by renowned stage artists, dancers and musicians. It features the best of Broadway and West End like Cats, Les Miserable, Phantom of the Opera, Mamma Mia, Lion King, Wicked and more.
The tickets are sold at RM200 (Gold Tickets) and RM300 (Platinum Tickets).
General Manager of Grace Community Services (GCS) Irene Dawson said, despite the tickets being priced up, nearly 70 percent of the tickets have been sold out within just a short span since the first announcement was made.
"This clearly shows the support of ordinary citizens towards a charitable cause," she says, thankful that volunteers are also promoting the show on their own accord.
GCS chairman, Dr Henry Pillai, in a statement, said that the total of RM300,000 which the charity musical hopes to raise through corporate contributions and individual proceeds will be channelled to expand the homes' facilities to accommodate more underprivileged children.
All proceeds from the sales of tickets for the Broadway, featuring among others the Lead Cast, Nigel Richards, an internationally acclaimed singer, actor and teacher in Musical Theatre and award winning stage and recording artiste, Tan Soo Suan, will go towards the care and education for Rumah KIDS in Klang, which currently houses 60 children.
According to the press statement, the Grace Community Services (GCS) has functioned as a non-profit organisation for the last 32 years.
Driven by its motto, "Touching Lives", it not only continuously but actively feeds the poor, shelter destitute women, provide free medical care for the poor, care and provide education for abused and abandoned children.
To purchase the tickets or advertisements, please contact Irene J Dawson at [email protected] / M: 017 2069 502 / T : 03 3341 4044/55.