Borneo Kite Festival brightens up Bintulu sky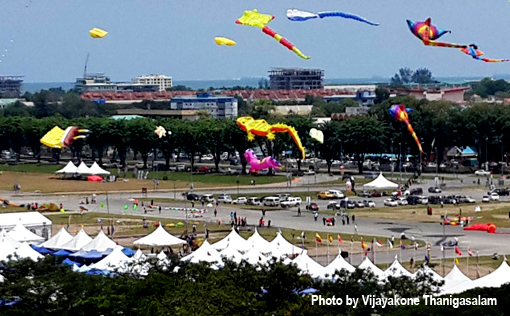 The skies of the Bintulu will be decorated with colourful kites, balloon and lanterns from all over the world.
Participants and visitors will have an opportunity to experience and witness kite competition, traditional kite-making, kite colouring contest and a special stunt kite performances from September 24 to September 28.
The 10th Borneo International Kite Festival will see participant from China, England, USA, Japan, Vietnam, Italy, Sweden, Australia, Turkey, France, Kuwait, Taiwan, Singapore, Belgium, Spain, German, Thailand, Indonesia, South Aftrica, New Zealand, Korea, Phillipines, Brunei,and Malaysia.
The official opening ceremony is scheduled to be held at 4.00pm, September 25 and the welcoming speech will be delivered by Assistant Minister of Tourism and Heritage Sarawak cum Chairman of the 10th Borneo International Kite Festival 2014 Datuk Amar Abang Haji Talib bin Zulpilip .
The event will be officiated by Sarawak's Minister of Tourism and Housing Datuk Amar Abang Haji Abdul Rahman Zohari Bin Tun Datuk Abang Haji Openg.
The carnival atmosphere at the venue are vibrant with many cultural performers showcasing their dancing skills and costumes depicting the Malaysian multi-cultural diversity.
For more information on the event please get in touch with the Secretariat of Borneo International Kite Festival at 086-332011 or visit their website at www.bda.gov.my.