We Love We Care We Share holds carnival for children from homes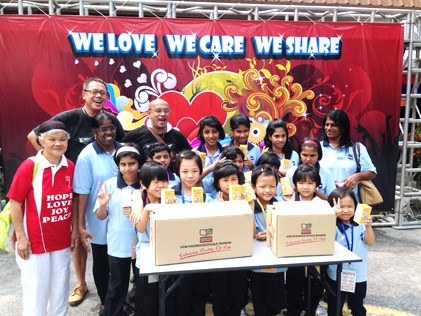 The community hall and outdoor basketball court in Jalan SS3/14, Petaling Jaya were transformed into a playful activity centre as the children's carnival came to town.
More than 400 underprivileged children from 16 homes in the Klang Valley, Seremban and Malacca enjoyed some great fun of their own at the second Charity Carnival on October 19, 2014.
The event is made possible by the generous contribution of members of We Love, We Care, We Share (WLWCWS), a facebook-based charity organisation.
There were also some sponsors from Papermate and Rubbermaid.

"We wanted to share our good fortune helping the needy and less fortunate children and to bring the community together," said WLWCWS founder Ivan Zuzartee.
He said the many exciting activities at the carnival were designed with fun for the kids.
"The kids win prizes at the games stalls regardless of whether they score points or not. No kid goes home empty handed.
"It was a sight to see the smiling faces of the children enjoying the fun spirit of the carnival.
"When the kids are happy, we are happy," said Zuzartee.
According to Zuzartee, the carnival this year is by far the biggest and best carnival.
"We do this huge carnival every alternate year. In between, we have various projects like supplying school uniforms to poor children and we also help old folks homes.
"We have raised RM12,000 to build a playground for a home for HIV/Aids kids in Batu Arang, which will be completed in December this year," said Zuzartee.
Twelve-year old Eddy Mang from the Society of St Vincent de Paul (SSVP), a home for underprivileged and marginalized children based in Klang, said he enjoyed all the activities at the carnival.
"I have all the fun together with the other children. I wish we had more time. I learned so many things and I really hope to come back again," Mang said with a big smile.
The children enjoyed the day getting their faces and hands painted or their hair cut. They participated in fun games for prizes at the various stalls with over 2,000 prizes to be awarded for their efforts.
The children also enjoyed pony rides, target goal shot, inflatable mountain wall climb, played on several bouncy houses and were clearly entertained by the beats and dance steps of Zumba dance.
At the end of the party, the children received plenty of gifts and for the homes, there were grocery supplies that had it all loaded into their buses for their trip home.
And of course, for Zuzartee, his team members and volunteers, it was time to say good-bye to their guests and will wait for the next carnival in 2016.
WLWCWS relied on donations and contributions from members and well-wishers to fund its charity works of helping improve the life of old folks, orphans, the homeless and the needy.