MYDIN teams up with SAP Malaysia to bring HOPE for the future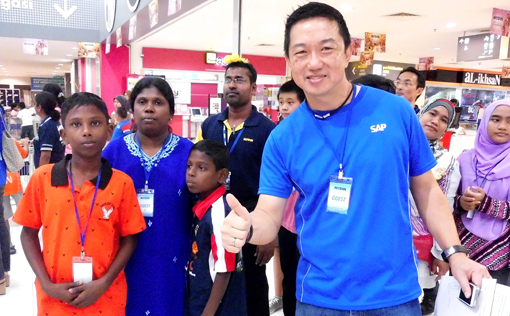 With strong support from volunteers amongst its ranks, SAP Malaysia employees recently brought some 60 children from HOPE Worldwide (Malaysia) for a shopping spree at the MYDIN USJ Subang hypermarket to get new school bags, uniforms, shoes, stationary sets and other necessities.
This initiative was jointly sponsored by MYDIN, with also support from SAP partner, Abeo International Sdn Bhd.
HOPE Worldwide is part of a non-profit, non-religious organisation established in over 100 countries. Since 1996, it has helped underprivileged and disadvantaged communities by providing free healthcare, and passing on new skills in areas such as in technology and creativity.
"MYDIN is a frequent sponsor of charitable events such as this, and it is truly a delight to see smiles on the children's faces," said MYDIN managing director, Datuk Wira (Dr) Hj Ameer Ali.
Meanwhile, SAP Malaysia managing director Bernard Chiang said that the company "has always had a focus on enhancing education – and the perfect way to start that is at the roots."
"By doing our part for these children, we hope this will further encourage the children to study hard to secure better futures for themselves," he said.
"SAP realises that it has a commitment to society. Through CSR activities such as this, we sincerely hope that we can narrow the gap between the private sector and charitable organisations such as HOPE," added Chiang.
Siti Nurhidayah, 16, gave a broad smile as she cheerily quipped: "It is thoughtful gestures like today's trip that show us something… it shows that someone out there really cares, even if they have never met us before. I'm deeply touched and, one day, I hope to be in a position to help others as well."
"The children we care for are such nice children and it is gratifying that they have the support of the community through caring corporates such as SAP Malaysia and MYDIN," said HOPE Worldwide (Malaysia) Executive Director Katy Lee.
"Money can be raised, even if often with difficulty, but the time they spent with the children today is priceless," she added.
By the end of the day, both the children and volunteers may have been a little tired, but from the smiles on their faces, it clearly showed that everybody had a fantastic time.