Domino's fan wins brand new Honda Jazz in contest
Domino's Pizza Malaysia has announced the winner of the 'Eat, Drink and Win a Car Contest' which ran from Sept 8 to October 19 this year in conjunction with the launch of Mountain Dew Blue Shock.
Chee Hin Kiat won the grand prize of a brand new Honda Jazz 1.5L S worth RM72,800 by calculating the number of 1.5L bottles of Moutain Dew Blue Shock that could fit into the sport automobile. His calculation was closest to the actual number. He also won the contest for his slogan, "Domino's Pizza delights me, the flavour excites me, the crispy crust thrills me and the taste energises me."
Chee was presented with his new car by Domino's Malaysia and Singapore senior manager marketing Hasfahlinda Hassan and Permanis Sandilands national key account manager Teh Suet Ching.
Thanking Domino's Pizza, Chee said: "I can't believe I calculated the number of bottles correctly and I am really grateful to win the contest.
"I am a huge fan of Domino's and it's great to know that they have contests like this to reward loyal customers."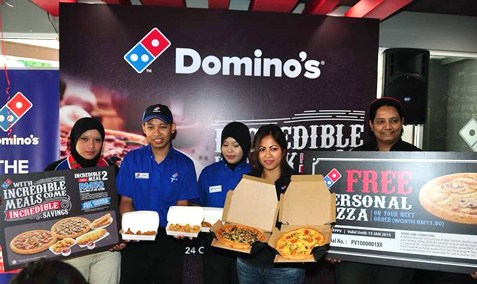 The prize presentation ceremony also saw the launch of the pizza maker's latest version of its "Incredible Meals" promotion.
Hasfahlinda said: "We are bringing back our Incredible Meals which cost only RM10 per person. The incredible part is that each meal comes with a complimentary Personal Pizza voucher worth RM11.80 and there is now an even larger selection of side orders to choose from.
"This is a strong attraction to our loyal customers and we are happy to offer this to our fans again."
More information on Domino's Pizza's Incredible Meal deals are available on Domino's Pizza Malaysia's website http://www.dominos.com.my/ and Facebook page https://www.facebook.com/DominosMY