Kadazan beauty wins Miss Scuba Malaysia 2014 crown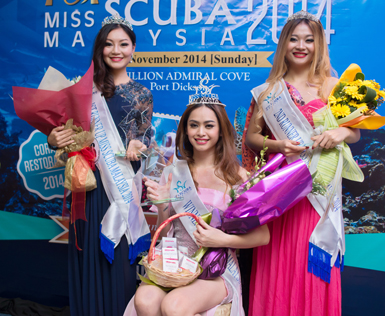 A beautiful and exotic Kadazan lady Joanne Majalap, 24, from Kota Kinabalu, Sabah was crowned Miss Scuba Malaysia 2014 at Avillion Admiral Cove in Port Dickson on Nov 9, 2014.
Standing  5 ft 7 in (169cm) tall, Majalap who attends Taylor's University for her degree in Mass Communications (Public Relations and Marketing) will represent Malaysia at the Miss Scuba International 2014 to be held in her hometown of Kota Kinabalu on Nov 28 this year.
"I am truly honored to have been crowned as this year's Miss Scuba Malaysia and I am proud to be part of an education effort to create awareness on the need for marine conservation to the locals and tourists alike," a jubilant Majalap said.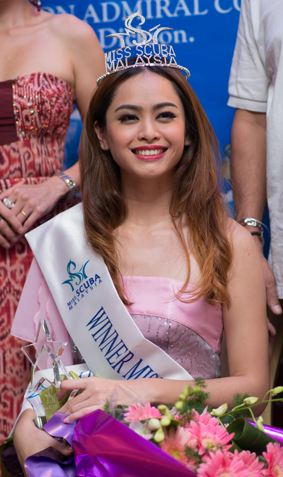 The certified open water diver (OWD) said the destruction of habitats, species extinction, pollution, and other threats faced by the oceans were due to lack of a strong public sea ethic. She said efforts were being carried out this year on marine conservation, focusing on the restoration of coral reef ecosystem.
"I can relate to the restoration efforts because as a diver myself, I had the privilege of witnessing the wonders and beauty of coral reefs and knowing the importance of this cause.
"Restoration is one way of helping corals adapt to a changing environment and to accelerate their recovery.  It is time for us to learn how to treat the ocean and its creatures the proper way by managing the sea's resources sustainably," Majalap said.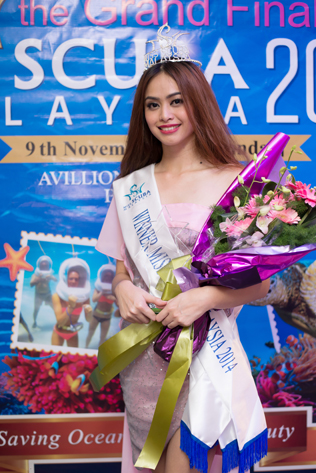 Julinda Ooi, 28, a student from Kuala Lumpur, who is also a certified open water diver was adjudged the first runner-up and Jenny Lim, 24, also a student and freelance model from Kuala Lumpur, was chosen as the second runner-up.
Guest of honour at the grand finale was Tourism and Culture Minister Datuk Seri Mohamed Nazri Abdul Aziz.
Nazri said he was very impressed with Miss Scuba Malaysia pageant for its objective of promoting the protection of coral reefs and marine life as both had important heritage value and were potentially the country's greatest tourist attractions.
"My ministry and I strongly support this pageant because the protection of coral reefs is an important cause for us to champion.
"My ministry is also the caretaker of the country's heritage and culture. Heritage is more than just old buildings and historical sites. It is also about what we want our children to inherit. So, coral reefs and marine life are definitely something we want our children and theirs to have and enjoy in the future," Nazri said.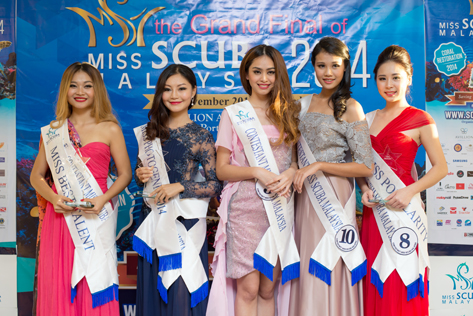 Miss Scuba Malaysia 2014 national director Joan Neo thanked the minister for taking time out of his busy schedule to grace the event.
"We are working towards not only increasing overseas tourists but also domestic tourists through this platform as one of our mission to promote Malaysia's dive tourism.
"We believe there is a need to provide accessible education about marine life to our youth so that there is awareness and appreciation for marine life. It is through this exposure that we have natural tendency not to harm and pollute the environment.
"We hope the newly crowned Miss Scuba Malaysia 2014 will continue to promote our mission to reach the next level," Neo said.
Neo also thanked the sponsors, partners and supporters for making this successful event.
Miss Scuba Malaysia using its tagline "Saving Oceans through Beauty' is an ocean ambassador search competition organised by Viva Thousand Sdn Bhd with the purpose of promoting scuba diving to women, dive tourism and ocean conservation while celebrating and rewarding the women for their inner beauty and courage.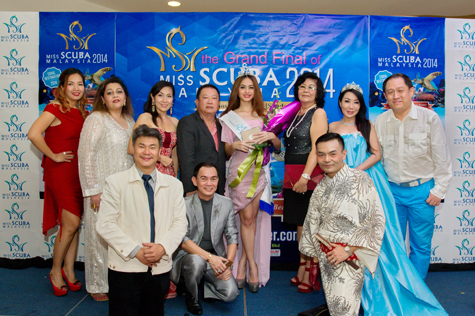 OFFICIAL RESULTS
Miss Scuba Malaysia 2014 Award Winners
Winner:  Joanne Majalap, 24
1st runner up  :  Julinda Ooi, 28
2nd runner up:  Jenny Lim, 24

Subsidiary Title
Miss Marine Conservation : Joey Tan, 22
Miss Best Talent : Jenny Lim, 24
Miss Photogenic : Julinda Ooi,28
Miss Popularity : Annie Kok, 20