Heavy downpour wreak havoc in Johor Bahru
A heavy down pour that started around 4.00 p.m. caused severe flooding in Johor Bahru late yesterday.
The areas affected from the floods were Jalan Skudai along the Danga Bay Waterfront development stretch, Jalan Tebrau near Wisma Daiman and Kampung Melayu Majidee.
Many motorists were forced to turn back as the road heading to Permas Jaya and City Centre was flooded.
A motorist known as Madam Tan said that she had stop and turn back as the road heading to Permas Jaya from Melodies Garden was impassable due to the flood.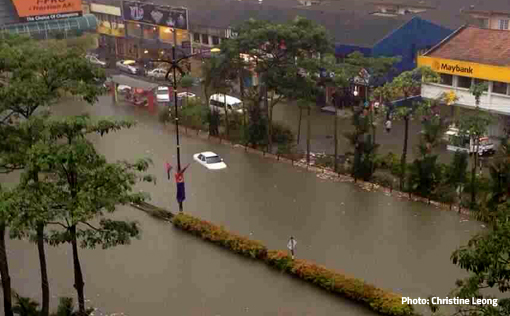 She also said that she had to change the route, when she saw a man was directing the traffic away while standing in a chest deep flood. Tan also said that her detour through Century Garden also was halted halfway due to floods.
All roads were back to normal at around 9.30 pm.