Big girl Alice Adrianna is Jumbo Queen 2014
A beauty pageant for big beautiful women 80 kilos (175 pounds) and above saw 12 plus-sized women battled it out for the crown at the Jumbo Queen 2014 grand finals at Sungei Wang Plaza in Kuala Lumpur on Nov 23, 2014.
The contest went head-to-head all the way but it was 23-year-old fashion entrepreneur Alice Adrianna's 100 kg weight and her big personality, confidence and winning looks that really impressed the panel of judges who proclaimed her the champion of Jumbo Queen 2014.
"I am just excited and happy. It feels good. I feel happy able to flaunt my curves without being judged negatively by my peers.
"I didn't really expect to win the champion award and I am also surprised because the other girls were really good," said Adrianna who received RM5,000 cash and gift vouchers worth RM3,700.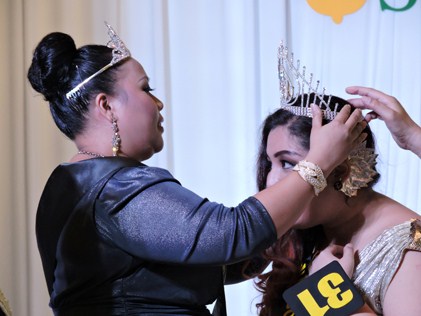 Adrianna, who deferred her studies in the performing arts and media at Sunway University said her participation in the pageant had boosted her self-confidence.
"I feel better and more confident now about my size. It's not a problem for me anymore, definitely. I was very low in confidence before this.
"I feel proud and I am going to show it to everyone.
"When people call me fat, the first thing that comes to my mind is my new favourite quote from the movie "Phat Girlz", and it goes like this, "F-A-T is Fabulous And Thick, Full And Tasty, Fluffy And Tender. I felt really empowered," she said.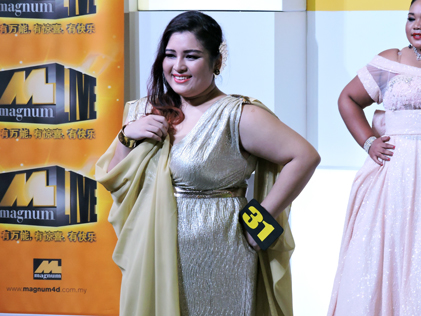 Adrianna also won two out of four subsidiary titles at stake – MY FM Most Popular Choice Award and Most Talent Award for her energetic and lively dance performance of the song "All We Got" by Fergie.
When asked about her family's support for her participation in the pageant, Adrianna said, "I entered the pageant on my own but when I made it into the semi-final rounds, I informed my family and they actually supported me. My friends were supportive too.  It alleviates a lot of the anxiety and really made me feel good. Now they will be really proud of me I'm sure," said Adrianna.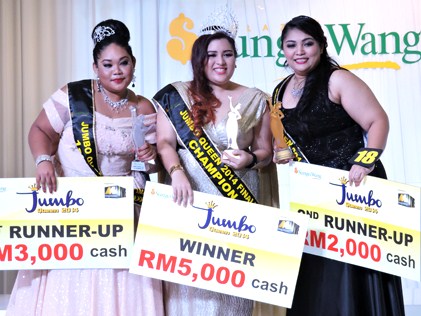 On what she has learned from the pageant, Adrianna said, "No matter what size you are, contestants can just push through and show their talent and confidence level. This really makes me happy so I really feel proud to own my plus size frame."
The first runner-up was human resource cum admin executive Siti Suhana, 29, who weighs 108 kg. She received RM3,000 cash and gift vouchers worth RM1,800.
Sales assistant Yasmin Nurain, 25, who weighs 106 kg claimed the third spot with RM2,000 cash and gift vouchers worth RM1,000.
The heaviest contestant was Suhaili Zainol, 30, nicknamed Darling who weighs 147 kg. The contestants come from various backgrounds such as housewives, executives, business women and tuition teacher.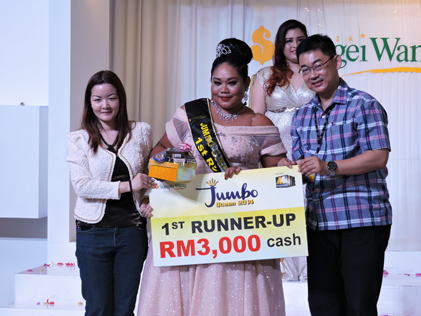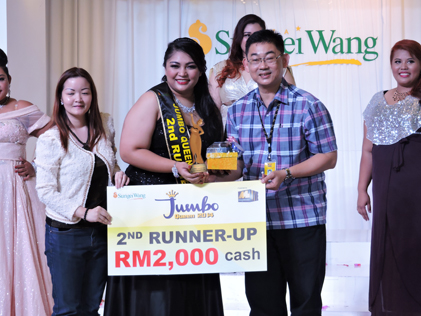 OFFICIAL RESULTS
Jumbo Queen 2014
Champion:  Alice Adrianna, 23, 100kg
1st runner up:  Siti Suhana, 29, 108 kg
2nd runner up:  Yasmin Nurain, 25, 106 kg
Subsidiary Titles
Most Talent: Alice Adrianna, 23, 100 kg
Most Votes on Magnum: Suhaili Zainol, 30, 147 kg
Most Online Votes on SWP Facebook: Ewe Sin Nee, 24, 80 kg
MY FM Most Popular Choice Award: Alice Adrianna, 23, 100 kg