Pacesetters teamed up with Kiwanis for a fundraiser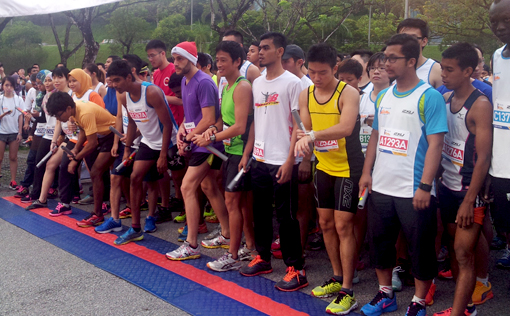 More than fifty thousand ringgit was raised for Kiwanis Down Syndrome Foundation National Center through the Alliance Pacesetters Run, which was held at Padang Merbok yesterday.
The event, which was a collaboration between Pacesetter Athletic Club and the Kiwanis Club of Kuala Lumpur and sponsored by Allianz Insurance Malaysia, saw an overwhelming participation of 170 teams, which includes 50 teams from various corporations.
Each of the corporate team forked out RM1,000 and the remaining participating teams of the different age groups forked out RM200 each, which brought the final tally of the contribution to RM55,600.
Pacesetters Malaysia's president Wan Yew Leong said that the club periodically organised such fund raisers and would continue to do so in the future.
The Pacesetters Club was formed in 1984 to promote running as a healthy form of exercise and actively organizes regular runs in various parts of the country.
The Kiwanis Club of Kuala Lumpur set up in 1976 as a community service club regularly initiate ideas to raise funds for its service projects benefitting primarily children with down syndrome.