Red FM's Kavin Jay is ready to tickle audiences with "Daddy Issues"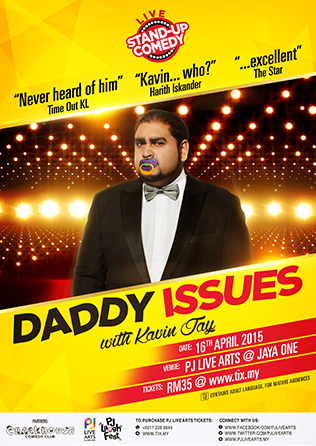 Stand-up comedian Kavin Jay is set to bring the highs, the lows and most importantly, the funny side of fatherhood  in the modern age  in his first-ever solo comedy show tomorrow.
With nine years of experience as a stand up comedian Kavin is well known for his works in keeping the underground comedy scene and open mic shows rolling.
He has been voted the grumpiest comedian in Malaysia today for his love/hate relationship with his life, love and country and has since performed with local and international comedic greats namely Harith Iskander, America's Paul Ogata and Singaporean star comic Kumar.
Radio presenter by day, comedian by night "Daddy Issues" will take inspiration from being a father to his two year old daughter, Kashaani Rhea and a son to his father showing comparison of changing times.
"Laugh Fest: Daddy Issues" will be staged on April 16 at PJ Live Arts, Jaya One Shopping Centre, Petaling Jaya. Tickets are on sale now at www.tix.my