Seremban lass Vanessa Tevi Kumares crowned Miss Universe Malaysia 2015
The audience at the grand ballroom of the Shangri-La Kuala Lumpur broke out in loud applause a little after midnight. The Next Miss Universe Malaysia 2015 queen had been announced.
Vanessa Tevi Kumares, 24, from Seremban, Negeri Sembilan, took home the coveted crown triumphing over 16 other contestants as the Next Miss Universe Malaysia 2015 came to an end at the gala night dinner held at the hotel on April 17.
"I will wear this crown and do my best in making our nation proud," she said, still excited about the win.
"We started as very ordinary girls and were transformed to beauty queens through the series of grooming, training and mentoring. I am very thankful for this opportunity."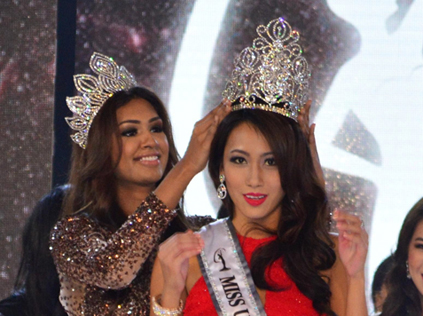 Vanessa will represent Malaysia at the 64th Miss Universe pageant international grand finals. Close to 90 countries are expected to participate in the pageant.
As the pageant winner, she received RM50,000 cash and sponsored prizes worth more than RM180,000
She holds a Bachelor of Science (Honours) in Tourism Management from the UK and currently working as a club lounge service leader at a hotel in Singapore.
The 5 feet 7 inches (170cm) lass, who is of both Indian and Chinese parentage was born in Kuala Lumpur and raised in Seremban. She speaks Mandarin fluently, besides Malay and English.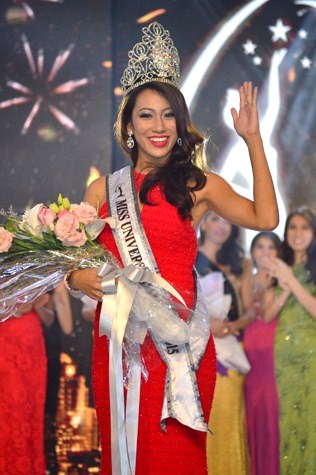 She is an ex-synchronized swimmer in school, and avid lover of sports and outdoor activities such as hiking and skydiving.
She hopes to one day start her own little business –  a café or anything related to making people happy and showing them a good time.
First runner-up was awarded to Pauline Tan, 24, from Selangor. Kelly Jagan, 26, from Sabah, a full-time model, was named second runner-up and Sugeeta Chandran was third runner-up.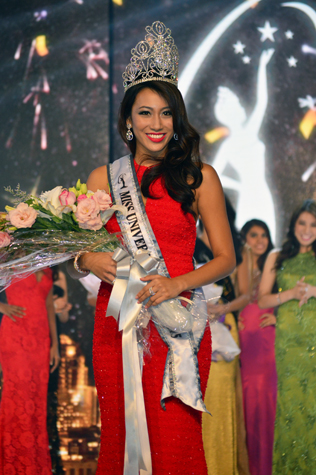 The Top 17 contestants competed in swimsuit and evening wear and the field was narrowed to six, who then competed in the Q&A session.
The night also saw subsidiary titles being awarded to the following finalists:
Miss Naza Maserati Elegance – Gloria Tneh, 24, Penang
Miss Body Beautiful – Meera Maniar, 25, Kedah
Female Miss Photogenic – Sugeeta Chandran, 26, Selangor
Miss mydentist.my Winning Smile – Pauline Tan, 24, Selangor
Most Talented (DJ spinning) – April Tang, 25, Selangor