Chick-A-Thon to raise fund for Children's Wish Society of Malaysia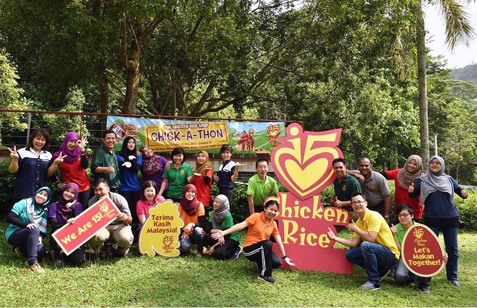 A family-friendly fun carnival-cum-walkathon simply called Chick-A-Thon to raise fund for the Children's Wish Society of Malaysia (CWS) will be held on May 31, 2015 at Perdana Botanical Garden (formerly Lake Gardens) in Kuala Lumpur.
The event is hosted by The Chicken Rice Shop (TCRS) in conjunction with its 15 years anniversary celebration of 'Makan Together' in Malaysia.
The home-grown family restaurant famous for its chicken rice is dedicating the occasion to bringing families and friends together to enjoy a relaxing day out in the lush greenery of Perdana Botanical Garden while raising awareness for the CWS of Malaysia.
TCRS Restaurants CEO Wong Kah Lin said: "Our 15th anniversary is an important milestone to us, for which we are grateful to our fans and patrons, whose support has helped us become who we are today and we wanted to mark this momentous occasion by giving back to those in need, as our way of sharing the blessings which have come our way."
To take part in the walkathon, participants need to dine at any TCRS outlets nationwide and pay the entry fee of RM10 per participant at the outlet, and submit their entries via online. Participation for children under 5 years old is free and no charges.
Registration is limited to the first 1,000 participants and will close on May 17.
All proceeds from entry fees will be donated to the CWS of Malaysia.
The CWS of Malaysia is a national charity dedicated to fulfilling the wishes of terminally-ill children in the country.
For more information on the TCRS 'Chick-A-Thon', log on to www.thechickenriceshop.com