Ducati Malaysia rolls out the highly anticipated Scrambler Ducati family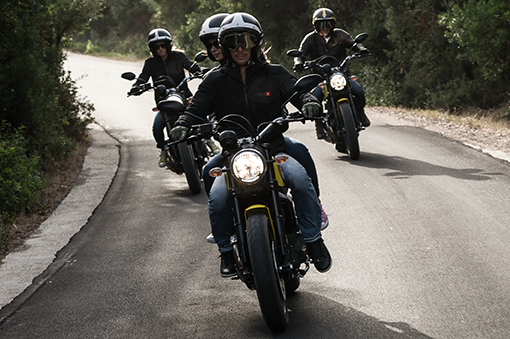 The much awaited complete range of Scrambler Ducati  was finally introduced at the Ducati Sungai Buloh on 24th June, in-conjunction with the kick off of a nationwide Scrambler Ducati tour.
The Scrambler went on to tour the globe, making special appearances in numerous countries before last October when Next Bike Sdn Bhd delighted members of the local press and Ducati Club Malaysia with an exclusive preview of this renewed classic just ahead of the launch of Asia Ducati Week 2014.
A contemporary interpretation of the original 1970's icon, whilst it certainly exhibits a retro flair, it was 'intended to be just how the legendary Bologna-built motorcycle would be today if Ducati had never stopped building it'.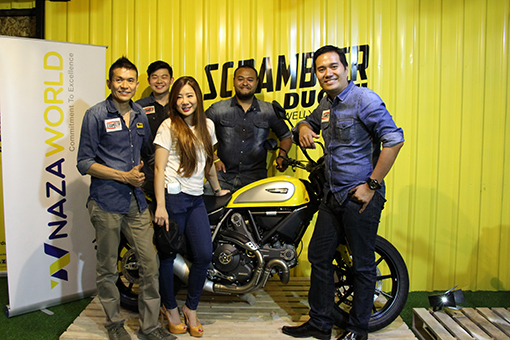 "Following the Scrambler's exclusive preview last October, where it was very warmly received by the media, Ducati partners and Ducati Club members, we knew this model was going to be a hit with motorcycle lovers all over Malaysia.," Datuk Wira Hj. SM Faisal Tan Sri SM Nasimuddin, Group Executive Chairman & Group CEO, NAZA World Group of Companies.
A balance oftradition and modernity, this model marks the return to the pure essence of motorcycling: two wheels, a wide handlebar, a simple engine and a huge amount of fun. The Scrambler's 'post-heritage' design has taken the best of the past whilst simultaneously retaining the original's charm and honoring its history.
Ducati's designers incorporated several defining characteristics to revive a legend such as; shaped the fuel tank in a way that remains true to the original teardrop design of the 1970's model, an inscription on the filler cap that says 'born in 1962' and the distinctive round head lamp.
It runs on a fuel-injected oil and air cooled 800cc L-Twin engine that produces up to 75 horsepower. The Scrambler includes various modern fatures and fittings such as the two-channel ABS braking, LED powered headlights, and a USB charging port under the seat.
The highly customizable new Scrambler comes in four versions: the red or yellow Icon, the black-framed Classic, the wild green Urban Enduro and the black Full Throttle racer with yellow accents. Each version offers its own style and performance-related interpretation of the Scrambler spirit.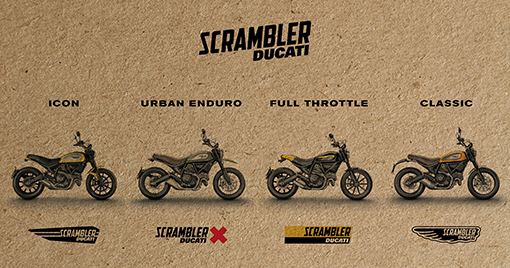 Overview of Scrambler models and features:
Scrambler Icon
Characterized by its comfortable riding position and steel teardrop tank with interchangeable aluminum side panels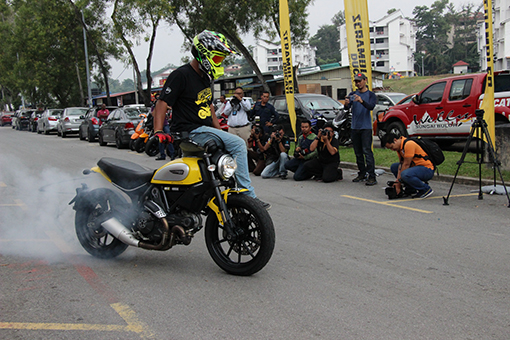 Colours
1. "'62 Yellow" with black frame and black seat
2. "Ducati Red" with black frame and black seat
Features
o Steel teardrop-shaped tank with interchangeable aluminium side panels
o Low seat (790 mm) for perfect stationary manoeuvrability
o Low weight (170 kg dry) and low centre of gravity
o Wide handlebars for a relaxed riding position
o Headlight with glass parabola and ultra-modern LED light guide
o Rear light with suffused-light LED technology
o LCD instruments
o L-twin air-cooled 803 cm³ engine
o Machine-finished aluminium belt covers
o Twin spar steel Trellis frame
o Die-cast aluminium rear swingarm
o 10-spoke alloy wheels, 18'' front, 17'' rear
o Enduro-derived Pirelli tyres optimised for the Scrambler
o Dual-channel ABS as standard
o Spacious under-seat storage compartment with USB socket
Scrambler Urban Enduro
An ideal companion with which to get around urban obstacles with agility.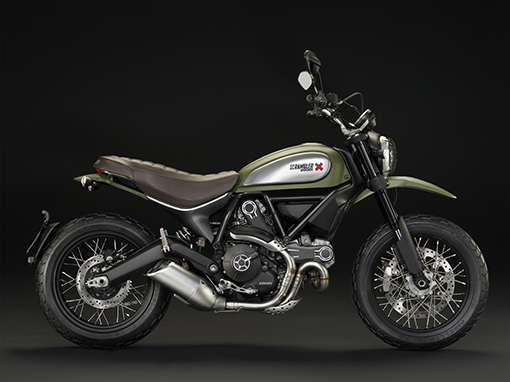 Colour
1. "Wild Green" with black frame and brown seat
Features
o Spoked aluminium wheels
o Engine sump guard
o High front mudguard in plastic fibre
o Headlight grill
o Handlebar cross-strut
o Plastic fibre fork protectors
o Dedicated seat with horizontally ribbed stitching pattern and modern fabrics
o Dedicated logo
Scrambler Full Throttle
Inspired by the flat track world and makes clear references to the bikes that race around dirt ovals. Destined for those who want a bike perfect for every-day use but without compromising on racing style.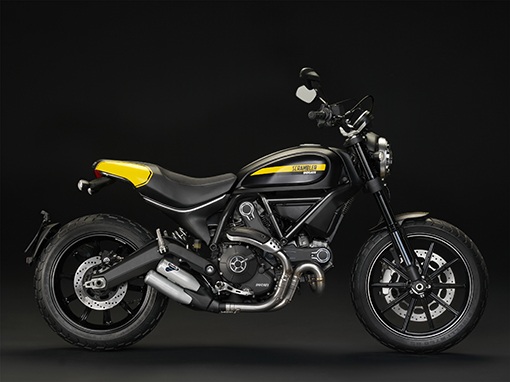 Colour
1. "Deep Black" with black frame and black seat
Features
o Low-slung type-approved Termignoni slip-on
o Low, tapered-diameter handlebars
o Flat-track style seat with yellow inserts
o Indicator lights support
o Sports style front mudguard
o Black fuel tank side covers
o Dedicated logo
Scrambler Classic
Aimed at those who appreciate attention to detail and 1970s style, but who don't want to compromise on riding pleasure and the functionality of a modern bike.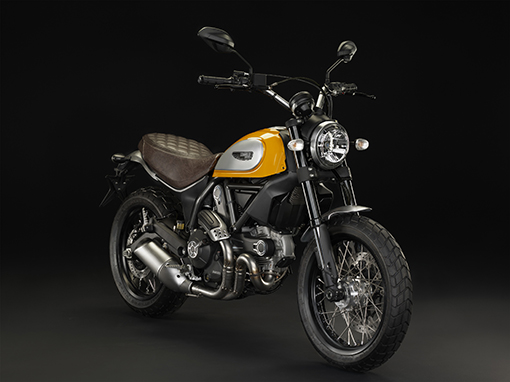 Colour
1. "Orange sunshine" with black frame and brown seat
Features
o Spoked aluminium wheels
o Front and rear metal mudguards
o Dedicated seat with lozenge-type stitching pattern
o Fuel tank with black central stripe, just like the '70s Scrambler
o Dedicated logo
All four variants of the Ducati Scrambler are available to the Malaysian market. Introductory net selling prices (inclusive of GST) are as follows:
Scrambler Icon – RM57,333
Scrambler Urban Enduro – RM64,888
Scrambler Full Throttle – RM64,888
Scrambler Classic – RM64,888
For more information on the nationwide Scrambler road tour visit the Ducati Malaysia Facebook page http://www.facebook.com/DucatiMY or http://www.facebook.com/ScramblerDucatiMalaysia alternatively you can contact Ducati Centre Malaysia at 03-7956 7799 or email to [email protected].