Black Sunday 3.0: NGO Demands for Sabah IC at Rally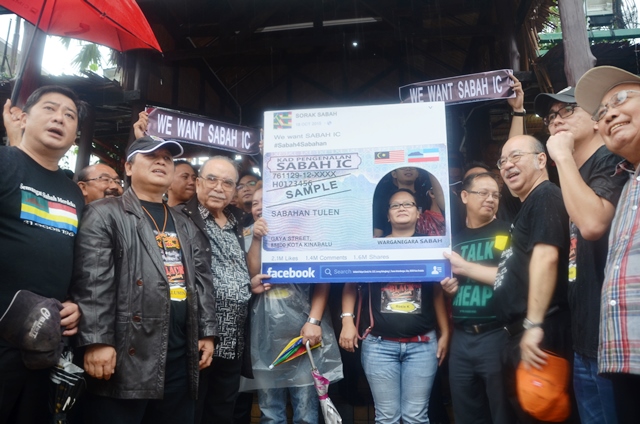 The Black Sunday 3.0 gathering organized by non-governmental organisation (NGO), Solidariti Rakyat (SORAK) together with Sabah Progressive Party (SAPP), Sabah STAR, Parti Cinta Sabah and United Sabah Alliance proceeded smoothly without any untoward incident.
Around 100 participants turned up at Lintasan Deasoka for the rally which started at about 10am yesterday to call for the settlement of Sabahs illegal immigrants issue.
Former Chief Minister Datuk Yong Teck Lee said that Sabah will be able to safeguard its citizenship status from being illegally attained with the empowerment to issue Sabah IC (Identification Card).
Yong further explained that the Sabah IC will enable the state government to filter out any dubious MyKad through a stringent process that will require applicants to provide relevant proof of their birth status. The process will also deter disingenuous applications for the states citizenship.
"There is nothing in the Malaysian or Sabah constitution or law that prevents any state from issuing IC to its people in the state" he said.
Yong, who is also Sabah Progressive Party (SAPP) president said that it is baseless to perceive it as a move to secede from Malaysia, stressing that Sabah IC is not a new citizenship document but still a legal and constitutional document.
According to Yong, the Sabah IC issue was raised during the Royal Commission of Inquiry (RCI) on illegal immigrant issue in Sabah and the proposal has been submitted to the RCI Technical Committee afterwards.
Black Sunday 3.0, which made three demands, called on the Sabah RCI Technical Committee to speed up with firm and positive actions following the RCI report last year.
It also demanded absolute solution to cleanse Sabah of illegal immigrants and called for the re-issuance of Sabah IC in accordance with existing laws as soon as possible to protect the rights of genuine Sabahans.
Also present to show support at the gathering were Sabah State Reform Party (STAR) chairman Datuk Dr Jeffery Kitingan, United Sabah Alliance (USA) chairman Datuk Mohd Noor Mansor and Parti Cinta Sabah president Dr Nicholas Gontobon.
City police chief ACP M Chandra said that two police reports had been lodged about the gathering adding that the organisers of the Black Sunday 3.0 would be called up to give their statement to the police.
"Following the two police reports, investigation will be carried out under Section 9 (5) of the Public Assembly Act 2015," he said,