Pageant Takes Malaysians Back in Time to Ancient Chinese Dynasty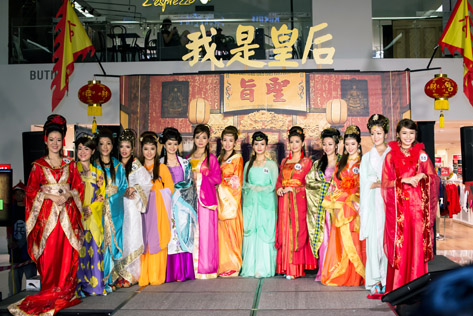 The curtain went up on Hanfu which showcased 19 contestants in a colourful display of the ancient Chinese clothing designs at the "Yes, I'm The Queen Pageant" semi-finals at Cheras Sentral Mall on 24 Oct 2015.
The Hanfu is a pre-17th century traditional clothing of the Han ethnic people in China.
The stage reflected an ancient Chinese Imperial Palace and the unique Hanfu themed beauty pageant was presented to the audience beginning with emcee Oscar Chow in role of the influential palace eunuch and favourite of the court entertaining the crowd and welcoming Empress Dowager played by veteran actress and writer Lissa, the Lord (played by Ng Chuan Hoo) and the princess (played by June Chow) as the panel of judges.
Then, the 19 contestants went on stage for self-introduction and poem recitation to showcase their wisdom. This was followed by a Chinese dance performance by Angelia Chen who was last year's pageant contestant.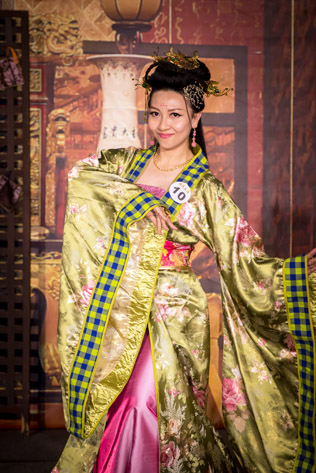 The contestants had to answer two questions that tested their knowledge on a diversity of subjects.
The last 15 contestants who made the cut to the grand finals were then announced. The lucky finalists were Lisa Tan, Winter Lee, Angeline Loo, Yap Mee Yen, Tracy Ng, Chee Chooi Kuan, Xiao Wei, Lye Pui Yee, Lau Wan Chen, Erika Quah, Tan Chaw En, Yoyo Lee, Chong Pui Yao, Tan Yee Ling and Annie Chen.
The grand finals will be held on 4 Dec 2015 at HGH Convention Centre, Sentul in Kuala Lumpur.
The Yes, I'm The Queen beauty pageant is organised by i Creative Entertainment. This "ancient Chinese costume" pageant aims to reach out to women and provide them the opportunity to embrace the ancient Chinese Hanfu culture and traditions through their participation in the event.
The pageant is opened to single and married contestants aged from 18 to 45 with minimum height of 155 cm. The contestants will be judged, among others, on their skills and knowledge in costume design, make-up and hair-styling of the Chinese costume and culture in ancient times.