KTM's 24-hour Service for Thaipusam Receives Good Response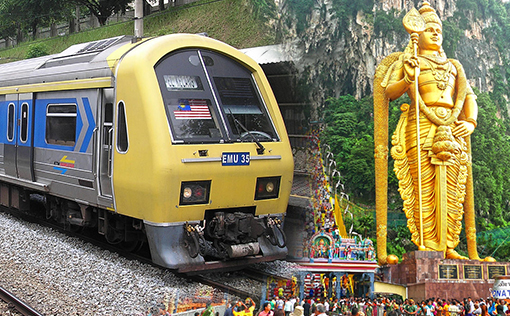 The Keretapi Tanah Melayu Berhad (KTM) offered round-the-clock service from the 22nd to 25th January 2016 in conjunction with Thaipusam. These services were to facilitate the transportation of Hindu devotees and tourists to Batu Caves for the festival.
The time interval between services was reduced to 20 minutes instead of the usual one hour with an additional of 953 train services offered on two lines, namely Batu Caves-Seremban and Rawang-Port Klang.
"We have targeted 100,000 commuters for this festival this year and the response was very well-received," said Rezwan bin Abdullah, 48, the Senior Executive Operations of KTM Berhad.
With heightened security at Batu caves in the wake of terrorist threats KTM imposed excellent crowd control with its vast experience that has been applied for ten years now.
"Approximately 200 personnel have been assigned to oversee Batu Caves to maintain a peaceful and harmonious festival. Each KTM station consists of at least two staffs, while Batu Caves' station comprises of 70 of them," added Rezwan.
Jayashirani, 19, a devotee from Rawang said she felt safer traveling travelling with KTM. "I heard about this service from my mother who heard about it over the radio and she encouraged us to travel to Batu Caves with KTM due to its availability of ladies cabin. I feel so much safer that the female commuters are given such a privilege."
"I agree that KTMB has improved in terms of time-management because I no longer have to wait for train for a long time. Plus, I have always preferred taking KTM as it gets me to a destination faster than a car," Jayashirani added.
However not all visitors were convinced with measures taken by KTM some still prefer to use other means of transportation to Batu Caves.
"KTM really helps with its 24/7 operating hour but I prefer traveling by a car rather than KTM. Despite its existence since decades ago, KTM remains to be slow and I have to wait for the train's arrival for 20 minutes," said John, 21, who lives in Banting.
This article is submitted by Vanessa Pang who is currently pursuing journalism at IACT College, Petaling Jaya