Kiwanis Fun Run Hopes To Raise RM100,000 For Children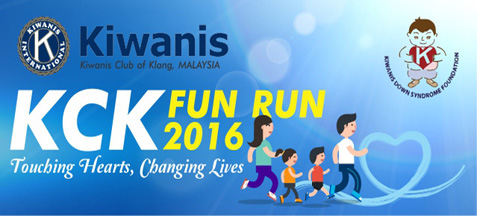 The Kiwanis Club of Klang (KCK) is organising a KCK Fun Run 2016 and is
hoping to raise RM100,000 for children with Down's Syndrome on July 31.
The proceeds from the run, to be held at the Oval Lawn of Setia City Park, Setia Alam in Shah Alam, will benefit Klang Kiwanis Down Syndrome Centre and Kiwanis Klang Children's Fund which help children in need in our community.
"We are celebrating our 26th year of service to the Klang community this year with Kiwanis Charity Fun Run. If we can hit our target of RM100,000 we will be very happy though we need RM150,00 yearly to run the activities," said Shirley Sobey, chairperson of Kiwanis Down Syndrome Foundation, Klang Centre.
This year's theme "Touching Hearts, Changing Lives" is beautiful and very touching.  Thousands of runners are expected to turn out to help support the cause.
"We serve the communities of Shah Alam, Klang, Banting and Kuala Selangor. The Down's Syndrome does not discriminate between the rich and the poor. They come from all walks of life and we help ensure a brighter future for
all children with Down's Syndrome," added Shirley.
The KCK Fun Run 2016 will include a 5km and 11km run and a 3km Fun Run. All top 10 winners in each category of the 3km and 5km races will receive a trophy and all runners who complete the run will receive a pewter finishing medal.
There will be a lucky draw after the race for all runners.
The KCK Fun Run 2016 is opened for public registration. For online registration, visit www.mylifestyle.my