BHPetrol Orange Run Flags Off 11th Year With 11km Trail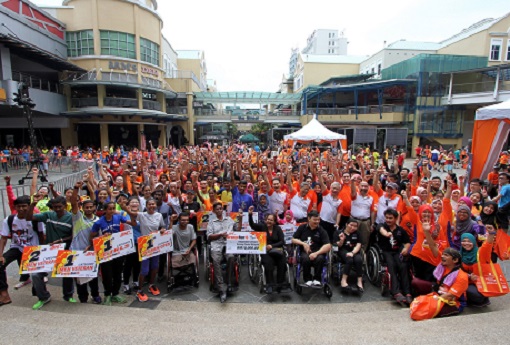 Encouraging Malaysians to embrace healthier lifestyles by running for a good cause, the annual BHPetrol Orange Run commemorated its 11th consecutive year with a trail of 11km. This year's run raised funds for three charitable causes, with over 3,500 runners participating.
Managing Director of BHPetrol, Mr Tan Kim Thiam said, "We are thrilled to celebrate the 11th annual BHPetrol Orange Run. Every year the run attracts a strong turnout, and this year is no exception. We are very grateful for the ongoing support which enables us to give back to those in need."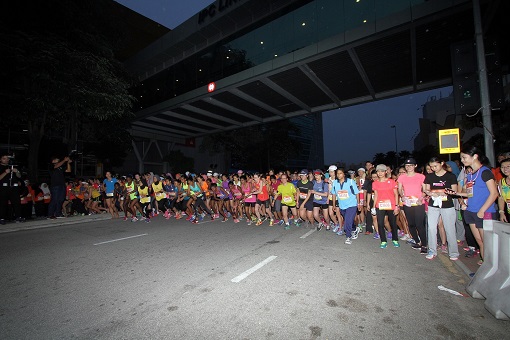 "Moreover, this event brings Malaysians together to make a difference in the community, uniting people from all walks of life to lend their support to a good cause."
Following the completion of the run, YBhg Tan Sri Dato' Seri Lodin Wok Kamaruddin, Deputy Chairman/Group Managing Director of Boustead Holdings Berhad, presented a total contribution of RM30,000 to Pertubuhan Kebajikan Asnaf Al Barakh Malaysia, Beautiful Gate Foundation For The Disabled and Independent Living & Training Centre Malaysia.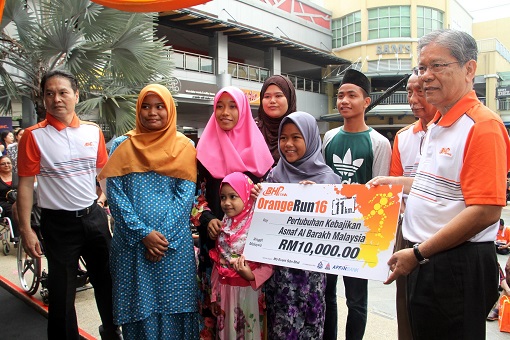 The run saw a wide range of contestants taking part under the eight categories, namely Men Open & Veteran, Women Open & Veteran, Boys & Girls and Men & Women International Open. Participants as young as 13 years old were able to join in the fun and be in the running for the amazing prizes.
The winners of each category received cash prizes amounting to a total of RM50,000, along with BHPetrol vouchers.
Other activities held in conjunction with the BHPetrol Orange Run 2016 included product offers and sampling booths by BHPetrol, AFFIN Bank, Nestlé and many more. The annual run is organised by BHPetrol in collaboration with Polis DiRaja Malaysia, Majlis Bandaraya Petaling Jaya and AFFIN Bank.