Malaysia Fashion Week Launched In Paris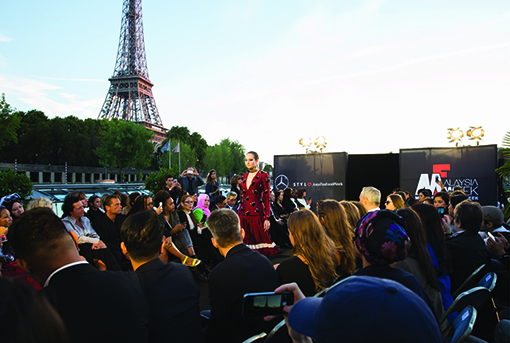 Malaysia Fashion Week (MFW) 2016 was officially launched globally today to a host of global guests, trade and media audiences on the Seine in Paris, France.
The global launch of MFW 2016 featured ten top Malaysian fashion designers who were handpicked to represent Malaysia to showcase their Ready-to-Wear Spring/Summer 2017 collections. The collections were featured through a fashion show held on the boat itself.
Organised by Malaysia's export promotion agency MATRADE (Malaysia External Trade Development Corporation) in partnership with Malaysia's leading fashion event organiser STYLO International and Mercedes-Benz, the event serves as an international flag-off and prelude to the MFW 2016 in Kuala Lumpur slated for November 2016.
The collections showcased at the global launch embody Malaysian chic traditional wear pulsed with sculptural and sharp-edged silhouettes and whimsical totes. Present at the event were specially-invited guests, among who included French media, fashion influencers and International buyers.
As part of the MFW global launch, the Malaysian designers will also be displaying their collections for fashion buyers on the 29 and 30 September 2016 at the Maria Callas Suite at Paris Hilton Opera from 10am to 6pm. This segment will allow International trade buyers to personally meet the ten Malaysian designers and brands, namely Bon Zainal, JO DISAYA, Bill Keith, Keith Kee, Fizi Woo, Tanoti Crafts, Sakura Malaysia, Ruzz Gahara, Porosus and Toi – The Dressmaker, who are all well known for their international appeal, quality and capabilities.
Chairman of MATRADE, Dato' Noraini Ahmad mentioned, "As Malaysia's export promotion agency, MATRADE is pleased to introduce a talented list of designers to a wider international audience through the MFW 2016 Global Launch. Malaysian fashion is unique and is inspired by the many facets of Malaysian culture, hence via this launch we wish to invite global trade buyers, particularly from Europe to Kuala Lumpur and discover the creativity of Malaysian and Asian fashion at its best."