Two Scooters Up For Grabs In Domino's Perfect Deal Contest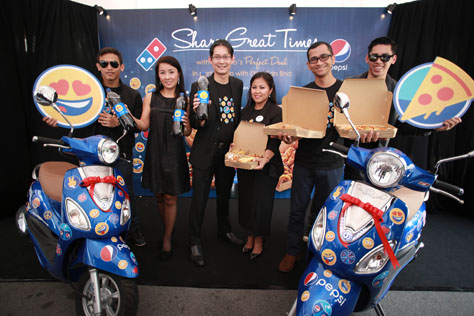 In line with the global "Say it with PepsiMoji" campaign, Domino's Pizza teams up with its long-standing beverage partner Pepsi to launch The Perfect Deal contest in conjunction with The Perfect Deal meal, a combination of the recently launched Fabulous Four and Domino's 2 Pizza Deals.
The contest to reward loyal customers offers RM15,000 worth of prizes, which include the main prize of two units of limited edition SYM Attila Elizabeth automatic scooters.
The dark blue fashionable scooters designed with emojis, make a one-of-a-kind retro style Pepsimoji scooter that reflect today's trendy lifestyle. Specially commissioned and assembled in Malaysia, these unique scooters are sure to make heads turn.
"We are excited to collaborate with Pepsi on The Perfect Deal Contest. The Perfect Deal showcases our most popular items on the menu and reflects our on-going commitment to providing great value for money meals while catering to our customers' top picks," said Linda Hassan, Domino's Pizza Malaysia & Singapore deputy general manager for marketing.
Beverage manufacturer Etika Sdn Bhd's (formerly Permanis Sandilands Sdn Bhd) vice president sales Gerald Lee said, "We have been working together with Domino's Pizza for a long time and our products are known to complement each other. Through this collaboration, we hope to create an exciting platform to engage with our joint consumer database to provide them with an enhanced experience."
The contest period runs from October 4 to November 13. Participation for the contest is simple. Upon purchase of The Perfect Deal meal which comes with a free 1.5 liter Pepsi, customers can log on to Domino's Pizza web site at www.dominos.com.my/contest to enter their order ID, fill up the contest form and answer two simple questions to be in the running to win. On top of that, for every contest entry, customers will get a free Regular pizza e-Coupon, credited to their online account upon every successful submission, valid for their next pizza purchase.
Domino's Pizza Malaysia is managed by master franchise holder, Dommal Food Services Sdn Bhd. To date, there are 170 Domino's Pizza stores in the country. It recently opened its 25th store for the year. In line with its aggressive long-term growth plans, Domino's aspires to continue opening more stores in the remaining quarter of the year, going beyond its initial target of annual 25 store growth.