Entries For Mrs Malaysia Universe, Mrs Elite Malaysia Universe 2017 Are Now Open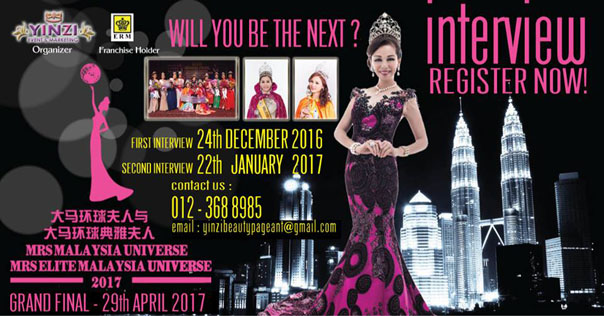 Applications for the 2017 Mrs Malaysia Universe and Mrs Elite Malaysia Universe 2017 pageant to be held on 29th April 2017 in Kuala Lumpur are now open.
Malaysian mothers and married women who have given birth to a child  and minimum height above 160 cm (5feet 3 inches) are eligible to apply.
Auditions will be held on 18th Dec 2016 (in Penang), 24th Dec 2016 and 22nd Jan 2017.
Organised by Yinzi Event & Marketing, the grand coronation night will see the crowning of two outstanding women in their respective age-group categories: Ages 23 to 40 (Mrs Malaysia Universe), Ages 41 to 65 (Mrs Elite Malaysia Universe).
The pageant gives an opportunity for married women to showcase their skills, accomplishments and successes.
"This year we are collaborating with YESIDO Productions and the Top 3 winners will get an opportunity to participate in microfilm (short movie)," said Yinzi Event & Marketing managing director Madam Lim Siew Cheng.
For each age-group category, there will be a champion, 1st, 2nd, 3rd and 4th runner-up, and nine (9) subsidiary titles for Mrs Malaysia Universe, eight (8) for Mrs Elite Malaysia Universe, including for Mrs Best National Costume, Mrs Most Talented and Mrs Photogenic Congeniality.
The semi final will be held on 12th February 2017. A press conference will be called on 23rd March 2017.
Those that would like to participate in the event, please contact Madam Lim at 012-368 8985 or send an email to [email protected]