Beauty Pageant Presents RM10,000 As Donation For School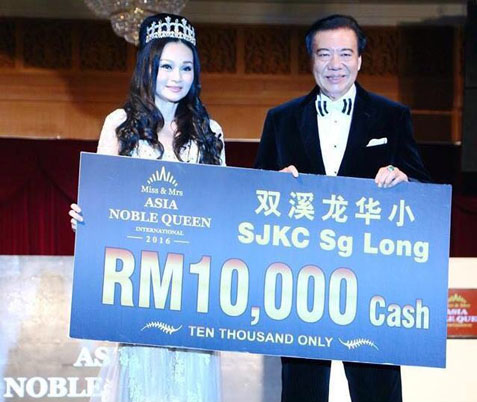 The organiser of Miss & Mrs Asia Noble Queen International 2016 pageant which was concluded at The Royale Chulan Hotel, Kuala Lumpur on 21st October 2016 believes in using beauty for a good cause when it made a donation of RM10,000 to a Chinese primary school, SJK(C) Bandar Sg Long in Kajang.
Jan Sit, event director and president of Noble Empress Productions which organised the event said her decision to donate the money to the school was because many Chinese primary schools faced the lack of much needed funds to improve the schooling conditions.
"I tried to offer a little help. I have not seen pageant fundraising for schools before so I tried something a little different. I hope the money will go along way to help the school and benefit the children," she said.
SJK(C) Sungai Long is the first Chinese vernacular school in Bandar Baru Sungai Long, Kajang. It opened its sessions on March 21 this year with about 900 pupils. Being new, the school still needed funds to be fully complete and self-sustaining.