Samantha Katie's Amazing Comeback Win For Miss Universe Malaysia 2017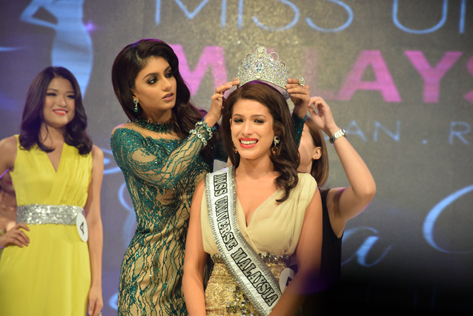 A model-artist of mixed Chinese-Brazilian descent, Samantha Katie James, 23, from Kuala Lumpur was crowned Miss Universe Malaysia 2017 at the Majestic Hotel in Kuala Lumpur at past midnight on 23rd Feb 2017.
17 contestants vied for the title but it was the brown-eye 170cm (5ft 7in) tall Samantha who was clearly the crowd favourite to win the crown.
Miss Universe Malaysia 2016 winner Kiran Jassal passed on her crown to Samantha who also won the subsidiary title of Miss Tsubaki Crowning Glory.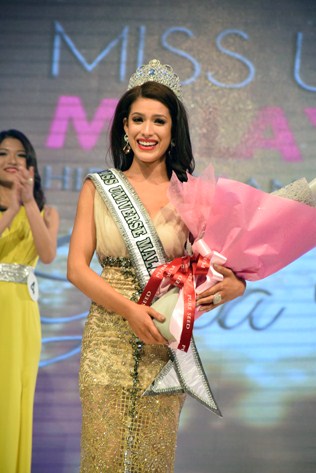 Samantha, then 18 years old contested the Miss Universe Malaysia pageant in 2013 and managed to make it to the Top 6 only. She made a comeback this time more prepared and ready just as strong as she was before, if not stronger. She was determined to win the 2017 Miss Universe Malaysia crown.
At the Miss Universe Malaysia 2017 finalists announcement held at the Intemark Mall in Nov last year, she put on a brave face and showed up on crutches due to a fall. She had told Citizen Journalists Malaysia (CJMY) then that "I am giving it my all to take the crown. I must win."  And win she did, amazingly!
Samantha will be representing Malaysia at the 66th Miss Universe 2017 pageant to be held in Nov/Dec this year.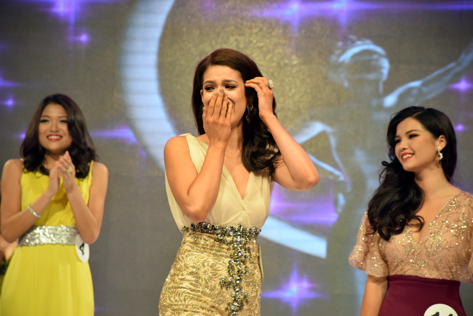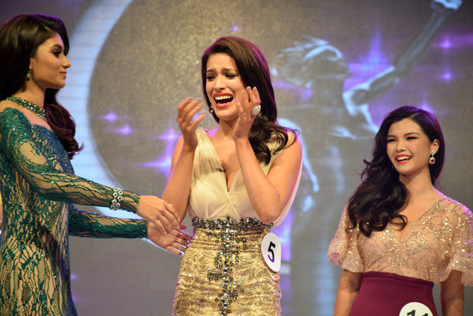 When her name was announced the winner, Samantha was seen wiping away her tears of joy during the crowning ceremony.
Her prize package included RM50,000 cash by Miss Universe Malaysia Organisation (MUMO), additional RM2,000 cash by main sponsor senZues and gifts from sponsors worth over RM150,000.
Samantha speaks five different languages including English, Malay, Chinese, Tamil and Portuguese and has starred in an Indonesian-Malaysia joint production horror movie "Kastil Tua" (Old Castle) which was released in Malaysia on 21 Jan 2016. The movie which was shot on location at Kellie's Castle in Batu Gajah, Malaysia is based on a true event at the castle.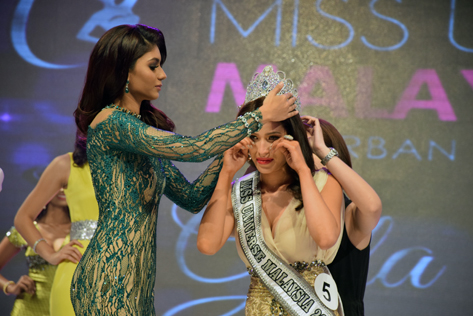 First runner-up was 22-year-old communications student Dana Low from Selangor, second runner-up went to 25-year-old Penang engineering graduate Ollemadthee Kunasagaran and finished as third runner-up was 25-year-old Laura Simon, a personal trainer/fencing coach from Sabah.
Over 800 guests attended the gala dinner and show hosted by Joey G and Amelia Henderson.
The finalists appeared on stage wearing swimwear and evening gown before the Top 10 were announced. After the Q&A session, it was narrowed down to the Top 4.
Funniest Person in The World 2016 champion Harith Iskandar, singers Vince Chong and Zhen Xiao provided entertainment for the evening.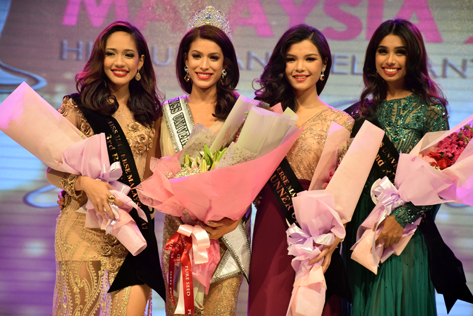 In congratulating the winners, MUMO national director Elaine Daly said,  "The Miss Universe Malaysia Organisation is a wonderful platform to empower young girls and make their dreams come true. It has changed my life in so many ways since I was crowned in 2003. This platform allows aspiring young women to show that beauty is truly more than about what you look like, and more importantly a combination of beauty, confidence, compassion and the desire to do something great enough to make a change in society."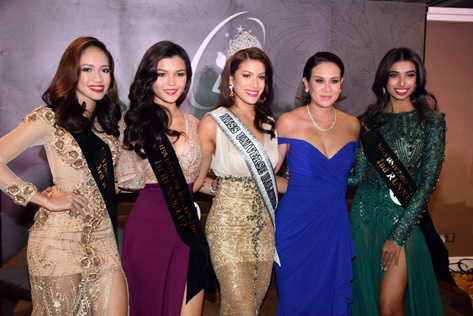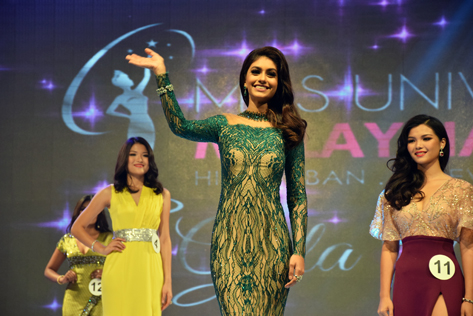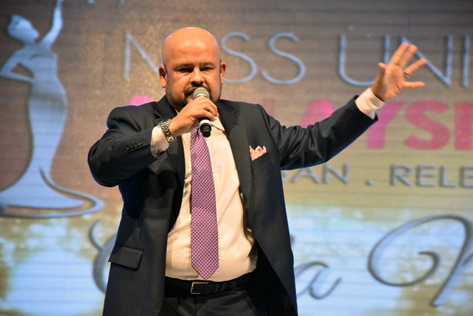 The contestants were judged by a panel of seven judges who comprised personalities and industry players, including Andrea Fonseka (Miss Universe Malaysia 2004 & former MUMO national director), Datuk Hans Isaac (actor, writer, director and producer), hairstylist Shawn Loong, fashion designer Rizman Nordin, actress Debbie Goh, Ceres Jewels founder Dato' Sri Navneet Goenka and NBCUniversal International Networks marketing manager Judriena Jamaludin.
MISS UNIVERSE MALAYSIA 2017 RESULTS
Champion:
Samantha Katie James, 23, model/artist, Kuala Lumpur
First Runner-Up:
Dana Low, 22, communications student, Selangor
Second Runner-Up:
Ollemadthee Kunasagaran, 25, engineering graduate, Penang
Third Runner-Up:
Laura Simon, 25, personal trainer/fencing coach, Sabah
SUBSIDIARY TITLE AWARDS
Miss Body Beautiful:
Dana Low, 22, communications student, Selangor
Miss Glamourous Eyes:
Erica Tan, 26, biomedical science graduate, Labuan
Miss Congeniality:
Karshini Ganesh, 20, medical student, Johor
Miss Natural Beauty:
Peh Leon, 24, finance manager, Kuala Lumpur
Miss Beautiful Skin:
Erica Tan, 26, biomedical science graduate, Labuan
Miss Online Personality:
Sonia Naidu, 23, rates analyst, Sarawak
Miss Naza Maserati Elegance:
Sonia Naidu, 23, rates analyst, Sarawak
Miss Tsubaki Crowning Glory:
Samantha Katie, 23, model/artist, Kuala Lumpur