Celebrating Sibu's Heritage & Multicultural Community Through Street Arts
Sibu, a 129.5 square kilometre inland town founded in 1862 by James Brooke has since grown into the capital of the Sibu district in Sarawak. In a country already rich in culture and heritage with an abundance of street art, Sibu enriches itself with the introduction of street art in 2016 by the Sibu Municipal Council.
Strategically placed in 10 different locations throughout Sibu, it has definitely gained infamy among local art connoisseurs having itself been painted by local artists from all walks of life. With a timeline that stretches from the good ol' days to recent times, this project has managed to incorporate everyday life of the 80's  to abstract art and will certainly grab the attention of passer-by's and express the uniqueness and memory of the city which is made up of a multi-racial and multiethnic community.
In lieu of Visit Sibu Year 2017, we have compiled the 10 street arts that is a must see during your trip to Sibu which to quote the great Marc Schiller, "can change your relationship to a place".
So what are you waiting for? It's time to pack your bags, ditch your ties and office wear and come experience the creative process of Malaysian artists for yourself!
70's old bus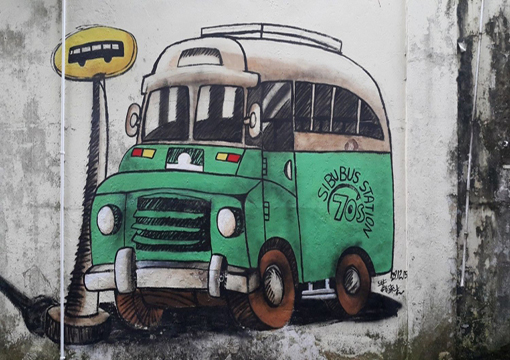 The 70's old bus street art is located at the side lane of Jalan Tukang Besi. It reflects the symbol of the 60s and 70s when the old faithful bus served as the town's main public transport. The residents of Sibu at that time used the public bus as the main transportation in order to reach a destination. As with its ever there jolly charm, be ready to catch some of that vibe!
Dian Bian Hu Stall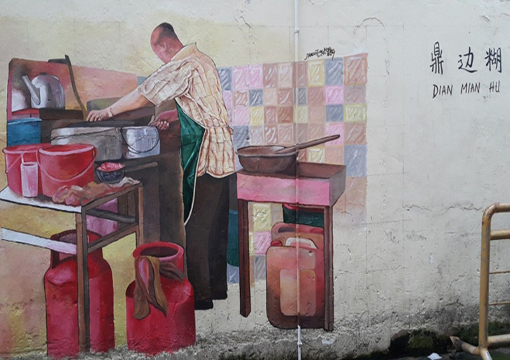 Dian Bian Hu street art reflects the mural features a popular personality who has spent 56 years in operating the Dian Bian Hu Stall. It is located at the side lane of Jalan Tukang Besi. Dian Bian Hu is a special Foochow delicacy made from rice flour. It is one of the signature must try in Sibu.
Sibu Local Delicacies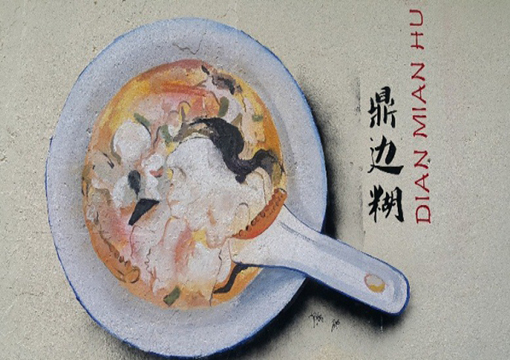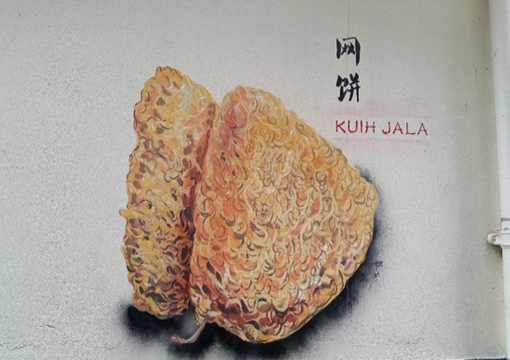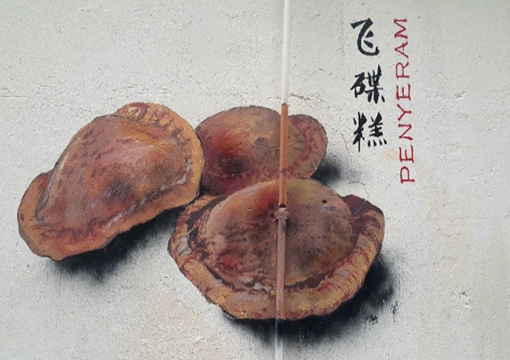 This street art is located at the side lane of Ta Kiong Building, Market Road. There are a series of mouth-watering local delicacies of Sibu from the multi-racial society in Sibu. It includes Kampua Mee, Dian Bian Hu, Pulut Panggang, Kuih Jala, Kompia and Penyeram.
Labourer (Coolie)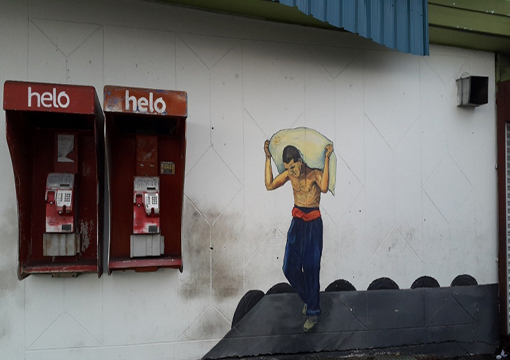 This street art is located at Hawker stance, Khoo Peng Loong Road. The mural reflects the early days of the 1950's and 1960's where coolies were a common sight at the wharf. Carrying, loading and unloading goods to and from motor launches and express passenger boats. This street art will also help you to understand the older Malaysia with colie's or kuli as is locally known as.
Wrapped Chicken and Duck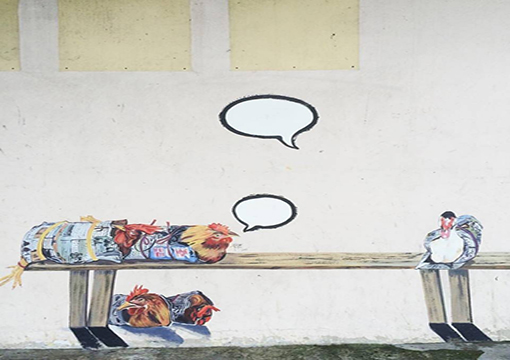 This is a very unique mural that is a must see at the Sibu Central Market which was drawn by Mr. Lau Sei Kwong and Mdm. Lilian Tang Siu Hui (Sibu Street Art, 2016). This mural shows the unique technique of selling live chickens or ducks by Sibu hawkers, which is by wrapping them with newspapers and tying them with nylon strings to form a kind of "handle" by leaving the birds' heads shown at one side before putting them on shelves for selling. In a humorous twist, the mural also has empty speech bubbles, and the chickens and ducks are conversing with each other as they wait on the shelves.
Childhood Memories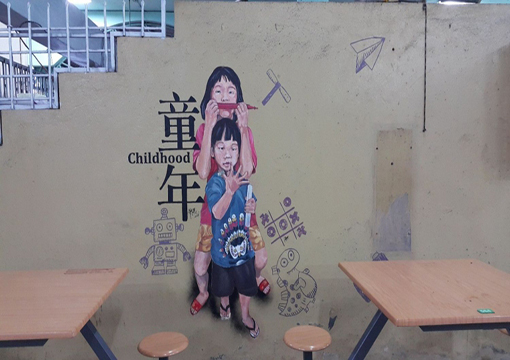 This heart-warming mural can be found in the middle of Sibu Central Market, on the second floor and is drawn by Mr. Lau Sei Kwong and Mdm. Lilian Tang Siu Hui (Sibu Street Art, 2016). The Childhood Memories mural shows the carefree childhood around the 1960's before the presence of internet and digital devices in our daily lifes. Paper crafted aeroplanes and bamboo crafted dragonflies were the common toys of those days (Sibu Street Art brochure, n.d.).
Multi-racial unity living
This mural portrays the multi-racial Malaysian society where people of different background and ethnicity meet and interact at a bus stop, before getting on off a bus. Normally bus stops are used during early days. They are the ideal avenue to encourage interaction between different races as it is significant in enhancing the understanding and mutual respect among various ethnic groups (Sibu Street Art brochure, n.d.).
Batik & Pantun (By Mr. Lau Sei Kwong, Mdm. Lilian Tang Siu Hui)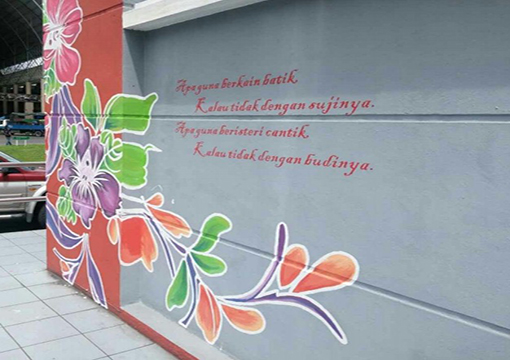 The mural entitled "Batik & Pantun" can be found in front of the Mara building, Jalan Mission and Sibu Central Market. "Batik & Pantun" are one of the elements that have contributed to cultural harmony in Malaysia. Where adventure lives, it is also widely accepted by all races and communities throughout the city, state and the country as a whole.
Teh Tarik Doddle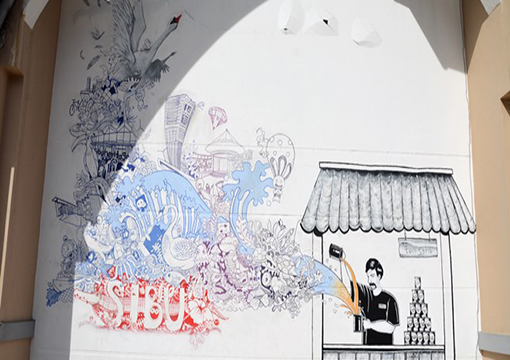 This mural is painted at the entrance to Sibu Central Market. "Teh Tarik is a popular hot milk tea commonly available in street stalls and kopitiam. It is the art of "pulling" the drink to thoroughly mix the tea and milk for better flavour and texture".
Ethnic Butterfly Mural (By Mr. Lau Sei Kwong, Mdm. Lilian Tang Siu Hui)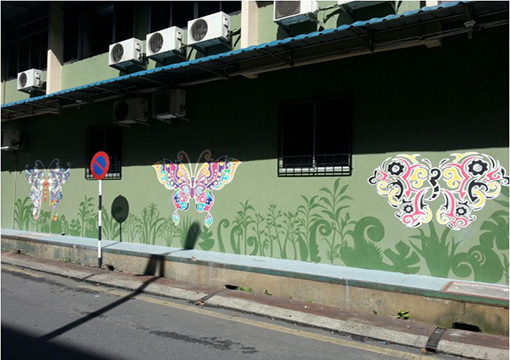 This butterfly mural is located at River Park Hotel, Jalan Maju which was just behind Li Hua Hotel. "Sibu as the gateway to the central of Borneo, a land of cultural and ethnic diversity is shown through the multi-racial colours and mix ethnic elements on the mural. It also symbolizes the beauty of racial harmony and unity in Sibu" – Brochure of Sibu Street Art.
This article is a contribution from the group Arthur Danto, the final year students at Faculty of Applied and Creative Arts, University Malaysia Sarawak (UNIMAS)