Children from Orphanage Treated to a Colourful Raya
A group of underprivileged children from Pertubuhan Kebajikan Anak-Anak Yatim/Miskin Klang (PEYAKIN) were hosted at the eCurve mall to a heart-warming celebration in conjunction with the arrival of the fasting month of Ramadhan.
Sheer excitement radiated from the 24 children's happy faces as the young guests accompanied by their four caretakers were given a warm welcome by the eCurve Management Team at the entrance of the mall and were filled in on the activities for the day.
The troop quickly made their way to the first stop, Ampang Superbowl, for a fun afternoon of bowling. After forming their teams, they were all ready for a little friendly competition. Words of encouragement and loud cheers rang through the air, and as the game progressed, the children started showing off great skills and abilities.
After rounds of games, the children were then whisked off to the mall's Centre Atrium, decorated beautifully with amazing Hari Raya decorations to resemble a bustling Raya Bazaar with shimmering chandeliers lights. It caught the attention of the kids as they gladly took the opportunity to snap group photos to document the day.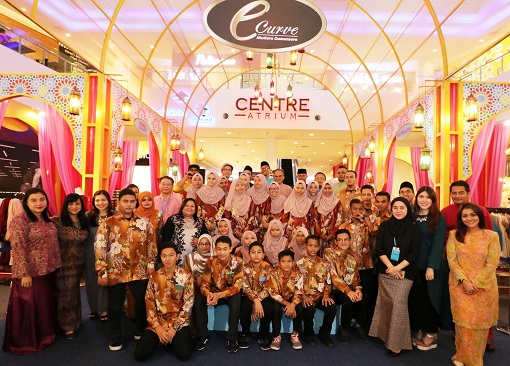 The atmosphere was further enlivened with the special appearance by the five-man acapella group Colour of Voices who took the stage and captivated the audience with their harmonious vocals as they created music without instrumental accompaniment. The rousing performance had crowd singing along to favourite Raya tunes and contemporary pop hits.
Centre Manager of eCurve, Azizul Hisham Ahmad, said, "Hari Raya Aidilfitri marks the largest festive season in Malaysia. As families and friends come together in celebration over a good meal and music, amidst beautifully decorate settings, there are also the disadvantaged who have never experienced the blessings we sometimes take for granted. Hence, we are pleased to be able to treat this group of energetic youngsters from PEYAKIN. They have been a great joy to host and we hope we brought meaning to their Raya this year."
By the end of it all, the children were surprised with goodie bags and duit raya, courtesy of the management of eCurve. As dusk approached, the young guests were treated to a buka puasa meal at The Manhattan FISH MARKET.