Domino's Pizza Msia Gives Free Meal to Charity
In conjunction with the month of Ramadan and in giving back to the community, Domino's Pizza Malaysia kickstart celebrates the holy spirit of the season with a range of corporate social responsibility initiatives.
20 charitable homes chosen by the media will receive a delicious treat from Domino's Pizza throughout the months of Ramadan and Syawal. They include welfare homes, old folk's homes and orphanage homes in the Klang Valley as well as those in the East Coast region.
"These initiatives are in line with our 20th anniversary celebrations this year. We have grown so much over the years and it is important for us that we celebrate our major milestone with all those that has made Domino's a success.
"With the objective of sharing happiness and togetherness during the festive period, Domino's Pizza employees will serve fesh pizzas to residents of the selected homes together with the respective media," said Domino's Pizza Malaysia and Singapore operations senior general manager Shamsul Amree at Domino's buka puasa (breaking of fast) event in Kuala Lumpur recently.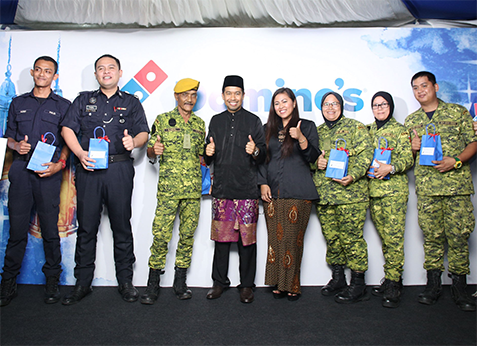 Special guests at the event were a host of Domino's unsung heroes. Among the attendees include the Royal Malaysia Police and Rela officers. These special individuals were recognised for their commitment in placing their duties and responsibilities before themselves come rain or shine, particularly during the Ramadan period. Also recognised were outstanding individuals in society who have helped the community through their own personal efforts.
There is also a Ramadan promotional campaign with a wide range of offers for Domino's loyal pizza lovers. From May 29 to July 9, 2017, customers are able to enjoy Super Tuesday, where they can purchase a personal pizza at only RM3.90 if they order online and through take-away. Walk-in customers can also enjoy the pizza at RM4.90 Additionally, the personal pizza can be upsized to a Regular pizza at RM6, a Large pizza at RM11 and an Xtra Large pizza at RM16.
For more info on the offers, customers can call Domino's at 1-300-888-333 or log on to its website at www.dominos.com.my to place their orders.