Cartoonist Tomato Holds Book-Signing Session at 1 Utama
Freelance comic artist Chong Poh Ling, who is also known as Tomato, held a book signing session of her latest comic book together with Penang chief minister Lim Guan Eng at centre court, old wing of 1 Utama Shopping Centre in Petaling Jaya on 2 July 2017.
The 170-page book titled "The People's Chief Minister Lim Guan Eng" tells about the story of Penang chief minister Lim Guan Eng in comic book form.
"I always think that I'm a lucky person because my dreams always come true. Ever since I was just a little girl I have always hope to be a cartoonist and now I managed to turn my aspiration into my career," said Tomato at the book signing session.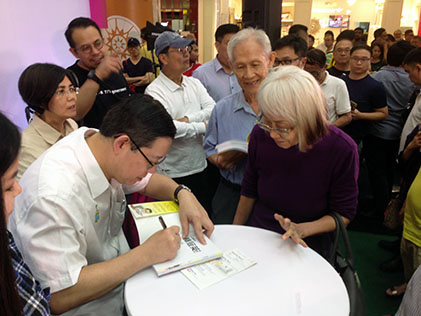 The young author studied Communication and Art Design at New Era College in 2011 and graduated five years ago.
"When I graduated, my first job was drawing a historical comic of Chinese educationist Lim Lian Geok. It was then it dawned upon me that it would be an honour if one day I could draw about the story of Penang chief minister Lim Guan Eng because he was a well known politician and during that time everyone was talking about him.
"And now here I am, standing on this stage! It is my honour to present to you this comic book about the Penang chief minister Lim Guan Eng. I want to say a big thanks to my project director who had looked for me and gave me this opportunity to be the cartoonist for the comic book about Penang chief minister," said Tomato.
A large crowd had queued up well before the event opened from 2pm to 4pm. More than 300 copies of the book were snapped up in the first hour. The book cost RM20 each and is published in both English and Mandarin edition.
The book signing session formed part of the 'I Love Penang' carnival organised by Penang Global Tourism and held at Central Park, Bandar Utama, Petaling Jaya. Other activities included the 5km fun run along Bandar Utama city centre, Penang's famous street food stalls, international buskers performances, fun fair and game stalls.