19 year old dentistry student wins in her first ever pageant
From a beauty pageant novice to being a beauty queen, that's what 19-year-old dentistry student Parveen Sidhu from Kuala Lumpur ended up after she entered a beauty pageant tor the first time to try her luck.
She was crowned Miss Grand Kuala Lumpur 2017 at the pageant finals held at Panggung Anniversary, Taman Botani Perdana, Kuala Lumpur on 15 July 2017.
Amazingly, with no experience whatsoever, Parveen got through the auditions, underwent almost six months trainings and shrugged off fierce competition from 15 other contestants at the pageant finals to emerge victorious.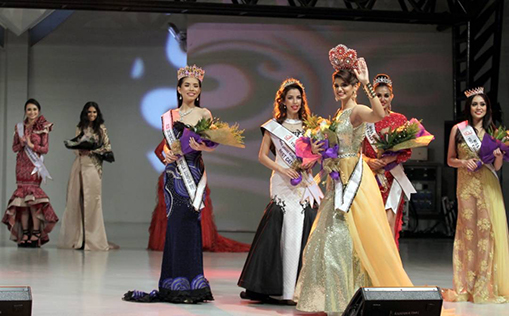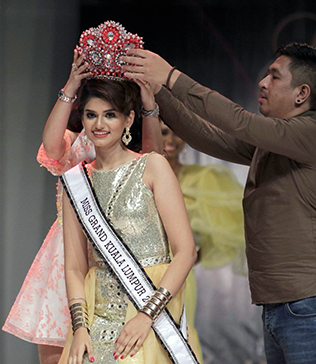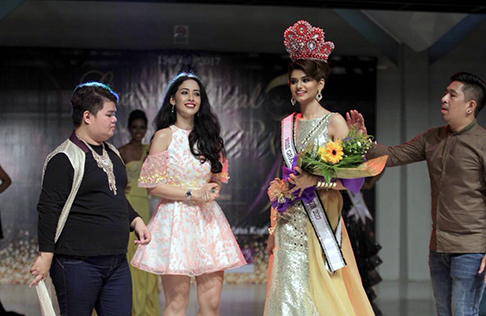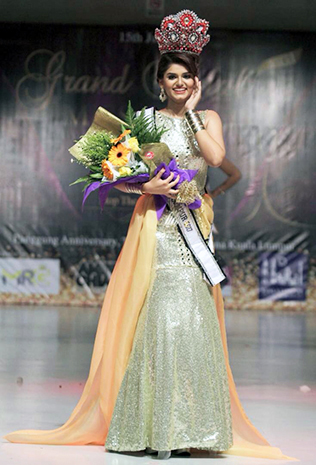 In an interview she granted to Citizen Journalists Malaysia (CJMY), she said, "I felt ecstatic. It was truly a dream come true".
The leggy lass who has a height of 5 ft 9 inches (175cm) also walked away with two subsidiary titles for Best Smile and People's Choice Award.
"Right after college while waiting for my results, I wanted to venture into something new and come out of my comfort zone. Then I stumbled across a casting poster for Miss Grand Kuala Lumpur. And I was interested especially towards the advocacy.
"Someone once told me to 'find a pageant that crowns you'. And it was then that I realised this is something I'm going to put in my 110% effort. With no experience of pageantry or catwalk, i gave it my best from zero to hero and made it," said Parveen.
She has never participated in a beauty pageant but that didn't faze her determination to win the top spot. Being the youngest finalist, she anticipated the difficult and tough challenges ahead of her first ever pageant but she stayed positive throughout the journey from the auditions until the finale that led her to victory.
"I learned something new every day throughout the pageant journey. I wasn't afraid of making mistakes."
Parveen will now advance to the national grand finals in Kuala Lumpur next month, and she is one step closer in the hope of becoming Miss Grand Malaysia 2017 beauty queen.
"I may request deferral for my dentistry degree to Sept next year and carry out duties as a Miss Grand Kuala Lumpur queen. I hope to earn a degree and eventually become a dentist.
"I am a very detail-oriented person and I've always liked this field of study. Dentistry to me is also perceived as an art because I'm continuously molding things and perfecting them, to empower people with a beautiful smile that they can flaunt proudly," said Parveen who had braces before.
Parveen enjoys hobbies such as reading and playing the piano as well as classical harmonium.
"I enjoy reading novels, mostly non-fiction, as it widens my horizons and allows me to enter a new dimension. My personal favourite author is Paulo Coelho and his best-selling book titled 'The Alchemist.'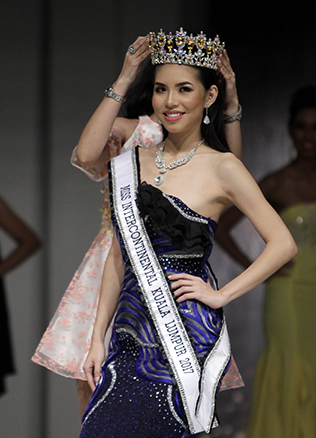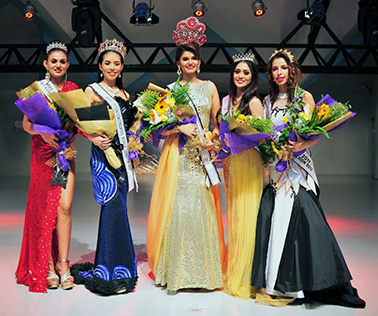 State pageant director Meris said he was captivated and inspired by the very high standard demonstrated by all of the finalists who had undergone intensive trainings conducted by great names, including Amber Chia (modeling trainer), Erry Mohamed (catwalk trainer) and Ash Dawson(dancing trainer).
"A girl with good attitude will always win, but she must perfectly satisfy all the criteria to become a beauty queen herself. Always wear your invisible crown, and you will become a Beauty Queen naturally.
"Parveen Sidhu has shown a lot of improvements through this journey. She practiced walking in her first high heels and putting her first makeup trial when she joined the pageant, and she was the youngest finalist in this batch. She never gave up and attended her all her trainings without fail," said state pageant director Meris.
Another title Miss Intercontinental Kuala Lumpur 2017 awarded on the same evening was won by 26-year-old marketing executive Cass Chen.
The Miss Grand Kuala Lumpur 2017 Pageant is fully endorsed by Kuala Lumpur. Tourism Bureau. Compared to other pageants that are dinner-styled, this competition made its mark with the beautiful and modern grand stage and lighting of Panggung Anniversary auditorium.
The 5th edition of Miss Grand International 2017 grand finals will be held in Vietnam on 25 Oct 2017.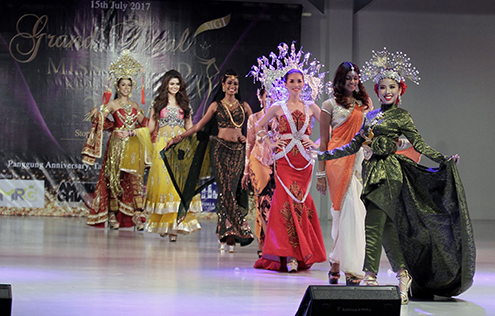 MISS GRAND KUALA LUMPUR 2017 
The Top 5:
Miss Grand Kuala Lumpur 2017 : Parveen Sidhu
Miss Intercontinental Kuala Lumpur 2017 : Cass Chen
1st Runner-up : Maria Devvone
2nd Runner-up : Shireen Kaur Oklih
3rd Runner-up : Sam Siadatan

Subsidiary Title Winners:
Miss Elegance: Rachell Ho
Miss Body Beautiful: Shireen Kaur Olikh
Miss Best Smile : Parveen Sidhu
Miss Congeniality : Katherine Lau
Miss Best Catwalk : Seyedeh Samira Siadatan
Miss Charity Queen : Adriana Biah Lawin
Best Advocacy Award: Alyssa Angelica Choy
People's Choice Award : Parveen Sidhu
MGKL Brand Ambassador: Vaishnevi Nahenthara Raj