Projek57 to promote unity by cycling through Malaysia
Social enterprise, The Projek57 is all set to promote unity and patriotism among Malaysians with a nationwide cycling event. Collin Swee and Syed Sadiq Albar the founders of the Projek57, will lead the Unity Ride event with a team of cyclists, by traveling through Peninsular Malaysia as well as Sabah and Sarawak covering urban and rural areas.
They hope to hear beautiful stories from all over Malaysia including the smaller towns and villages. The ride will consist 9 legs with pit-stop locations at universities and schools to engage youths with activities and community events that promote unity.
The public are welcome to join Projek57  on 6th August 2017 at 7am at Dataran DBKL, Kuala Lumpur, in a 7km ride around the city, in conjunction with KL Car Free Morning. It will be followed by the raising of the Jalur Gemilang and singing of Negaraku at 9am at Dataran Merdeka.
There will be a Projek57 booth at Dataran DBKL where a fun carnival is planned from 7am to 9am. A special Unity tee-shirt will be on sale together with other merchandise which display positive and meaningful messages about Malaysia. The Unity tee-shirt will also be available for purchase on Lazada and at Avenue K. Part of the proceeds from the sale of this tee-shirt will go towards underprivileged youths.
The Projek57 Unity Ride cyclists will then flag off to a 57km ride heading to the first pit-stop at IOI City Mall Putrajaya where a unity themed community event with fun games and activities will be organized by Touch 'n Go Sdn. Bhd at The Symphony Walk, Ground Floor.
All other cycling pit-stops at universities and schools with a view to engage youths will be closed door events, except for a carnival on 12th August 2017 at UTAR Sungai Long. Members of the public are also welcome to join a dialogue on Unity at the EcoWorld Gallery at MacAlister, Penang on 13th August 2017.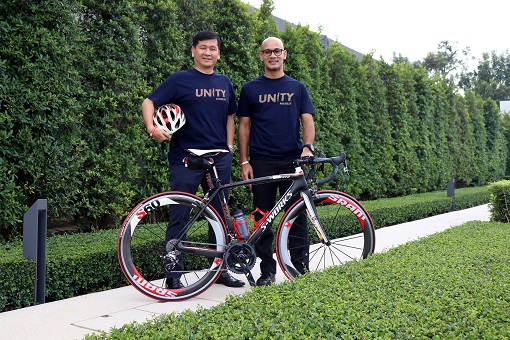 "We want people to join us in rising above the negative vibes, and focus on what is great, wonderful and beautiful about Malaysia. We share the vision of our beloved first Prime Minister, Tunku Abdul Rahman, that "Our future depends on how well many different kinds of people can live and work together." With the unity ride, we hope Malaysians will come together and share our hope that we can make a difference in our nation." Syed Sadiq Albar and Collin Swee shared.
"We are always keen to partner up with those who are as passionate as us about building unity and hope in Malaysia. We are encouraged by the overwhelming support we have received from our many like-minded partners, " added Syed Sadiq and Collin.