Aspirants Turn Up For Miss Cosmopolitan World Msia 2017 Audition
The walk-in audition of Miss Cosmopolitan World Malaysia (MCWM) 2017 held at Dazzling Café in Mid Valley MegaMall, Kuala Lumpur on July 22, 2017 saw ecstatic response from many wannabe beauty queens.
They came with high hopes of being selected as Malaysia's representative to the Miss Cosmopolitan World (MCW) 2017 international grand final where she will compete with contestants from 37 countries. The MCW 2017 international grand final will take place on 16 Sept at Putrajaya Marriott Hotel.
"We are impressed by the overall quality of the applicants," said MCW founder Amelia Liew who hoped to announce the candidate soon.
Amelia was also on the panel of judges for the audition. The other judges were Grandma Universe 2014 champion Datin Cynthia Ong, Mrs Borneo Globe 2014 Eileen Gan and guest judge James Bak.
Expectations were high towards this year's edition as the judges were looking for the Malaysian candidate who was confident and had a certain charisma and charm that made a positive lasting impression. 20 marks each were awarded for catwalk, personality, body physique, poise & posture and Q&A.
The prerequisites for eligibility included Malaysian non-Muslim female citizens, single, aged 18 to 28 and a height of 168cm and above.
Past winners of Miss Cosmopolitan World Malaysia were Devi Rani Nair (2016) and Kohinoor Kaur (2015).
The international finalists will start arriving in Malaysia on Sept 1 and during their two weeks stay until the pageant final they will be visiting many of the country's attractions and participate in various events including raising funds for charities.
Citizen Journalists Malaysia (CJMY) talked to five young aspirants to share their views and aspirations. They are all beauties with brains pursuing their graduation in their chosen professions.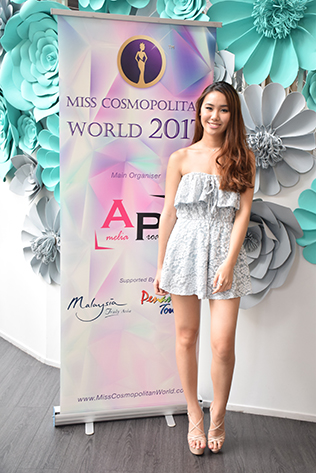 First-year law student Chanelle Wong, 19, from Petaling Jaya felt she had given her best shot and hoped to be chosen.
"I have truly done my best and I hope to realise my dream of becoming a beauty queen to represent the country.
"I have done two previous pageants where I was runner-up and finalist. I had a great time then and made many great friends," said Chanelle.
Chanelle was 5th runner-up (Miss Eco Beauty KL 2016) and winner of subsidiary title (Miss Best Smile) in Miss Earth KL 2016 and a finalist in Miss Malaysia Tourism 2015.
"I feel passionate in doing charity work because I have a passion for people. I love being with people and touching hearts caring and serving everyone with love."
Chanelle is an animal lover and cares deeply about animal welfare.
"I love helping animals in need in our community and making them feel less lonely. Our dogs, cats and other pets are such true companions and friends."
Chanelle who is 5' 6" (168 cm) tall, enjoys reading, jogging and swimming.
"In my free time, I love reading because I can have a lot of knowledge and it broaden my areas in which i find interesting.
"I go jogging and swimming because they are a great stress reliever and help me to stay fit and get in shape," said Chanelle.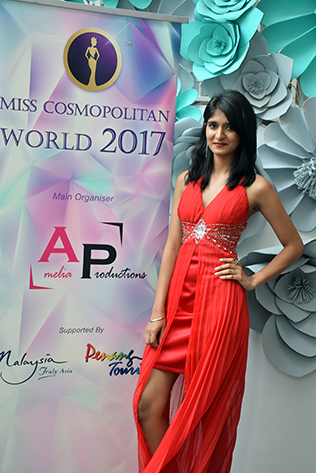 18-year-old Manishajit Kaur, a student at inti Collge Subang, came to know about the pageant from friends and wanted to try something different that she has never done before.
"I have never been to an audition before. I just do my best. I guess I am a little bit nervous but also excited about the whole thing.
"The audition went quite well as I managed to answer all the questions posed to me. I hope I get selected so that I can show the many great things about Malaysia to the rest of the world," said Manishajit.
The 5' 7" (172 cm) tall former school cheerleader enjoys her hobby of watching Netflix movies, playing volleyball and contemporary dance, and would like to start ballet dance lessons.
"I want to be an inspiration and a positive influence to ladies of my age. I believe with lots of hard work and determination, it is not impossible to achieve your dream," said Manishajit who aims to take up modelling.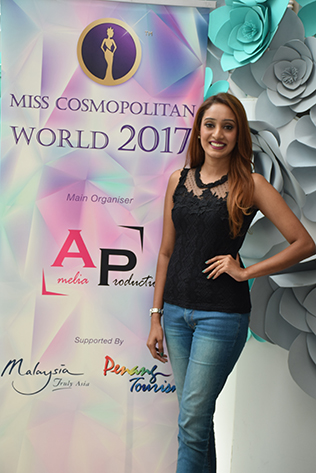 23-year-old Paveetha, a freelance model and a sourcing specialist in Ranstad Sourcerigh is very confident on stage and hoped her experiences would help her to get selected.
"I am feeling great and confident. I hope the judges will choose me because I have the experience, high confidence level and able to promote Malaysia to the world in all aspects.
Paveetha was a finalist of Miss Malaysia World 2016, first runner-up of Miss KL Earth 2015 (Miss KL Earth Air) and winner of two subsidiary titles, Miss Best In Talent and Miss Eco Gorgeous, in Miss Malaysia Earth 2015.
Her modelling experience includes walking the runway and appearing for clothing ads.
In her spare time, Paveetha indulges in hobbies such as dancing and playing badminton.
For 24-year-old Asha Kaur from Petaling Jaya and 22-year-old Durga Verachanan from Kluang, both share a common dream and aspiration of holding a pageant title and be a reigning queen to represent the country.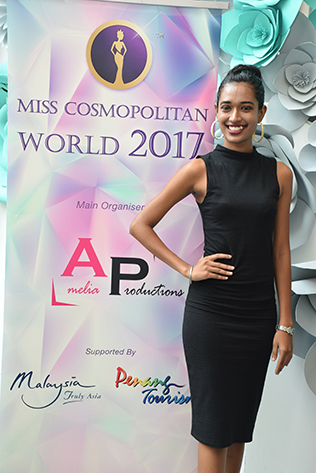 Asha and Durga were finalists of the just concluded Miss Grand Kuala Lumpur 2017 pageant.
"I am an adventurous person. I wanted to push myself out of my comfort zone to challenge myself to become stronger and more confident to achieve my dreams.
"If selected, I will do my best to promote Malaysia putting it on the global tourism map," said Asha, a final year dental student at Lincoln University College.
"I decided I wanted to pursue a career in dentistry because I can help people to look and feel good with beautiful teeth."
Asha is a former school runner and had ran the 3,000 metres and 1,500 metres track events under the Malaysian Schools Sports Council (MSSM) program.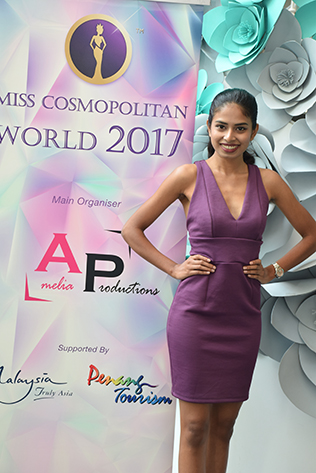 Durga Verachanan said, "I have tried my best and I hope to get selected."
She is currently a second-year Business Management student at HELP University and is planning a career in the business.
"One day, I hope to start a gym and technology-related business using the tools I have studied," said the wannabe entrepreneur.
Her interests include classical Indian dance called Kathak and working out at the gym at least four times a week to keep fit and in shape.