Miss Grand Malaysia 2017 Unveils Top 16 Finalists
16 finalists were revealed for the finale of Miss Grand Malaysia 2017, which is scheduled to take place on Aug 4 at Grand Pacific Ballroom, Evolve Concept Mall, Ara Damansara in Petaling Jaya.
They will be vying for two crowns and represent Malaysia at Miss Grand International 2017 in Vietnam and Miss Intercontinental 2017 in India.
The new queens will be crowned by Miss Grand Malaysia 2016 Ranmeet Jassal who was a Top 20 semi finalist at Miss Grand International 2016 held in Las Vegas, USA.
Speaking at a press conference to announce the shortlisted finalists, Miss Grand Malaysia Organisation national director Jude Benjamin Lisa said they had received more than 500 applications from aspiring contestants, including from the three state level pageants in Sabah, Sarawak and Kuala Lumpur, and had narrowed the list down to the best 16 girls.
"This is a significant milestone achievement for Miss Grand Malaysia in the country as we continue to provide the opportunity for young Malaysian women and empower them to succeed in their career and the community they live in," said Jude in congratulating the finalists.
The selection process was meticulous and based on many factors. This year's finalists consist of local pageant winners representing the states of Sabah, Sarawak and Kuala Lumpur.
Below are the finalists details:
1. Parveen Sidhu, 19, Kuala Lumpur
2. Shireen Kaur, 26, Kuala Lumpur
3. Felcy Julian, 20, Sabah
4. Fiollaa Redup, 24, Sarawak
5. Maria Devonne Escobia, 24, Kuala Lumpur
6. Mithrra Kuladeva, 22, Kuala Lumpur
7. Rachell Ho, 24, Kuala Lumpur
8. Olga Hutagaol, 18, Penang
9. Raveena Lakshmi, 19 , Kuala Lumpur
10. Phrisillia Peter,  20, Sarawak
11. Samira Siadatan, 22, Kuala Lumpur
12. Sanjeda John, 25, Sabah
13. Bibiana Green, 18, Sarawak
14. Sanjna Suri, 26, Kuala Lumpur
15. Haara MK, 20, Selangor
16. Cass Chen, 26, Kuala Lumpur
Citizen Journalists Malaysia (CJMY) caught up with four promising contestants after the press presentation and asked about their preparations and chances on winning the crown. There are Cass Chen, Parveen Sidhu, Felcy Julian and Sanjna Suri.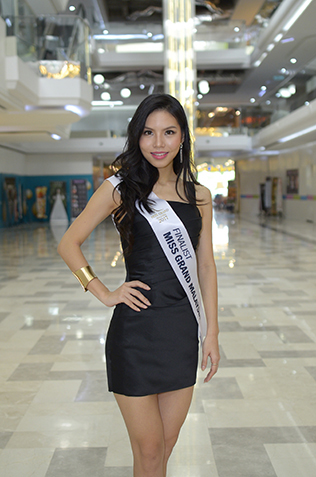 Marketing executive Cass Chen, 26, from Kuala Lumpur is determined to win the Miss Grand Malaysia crown as she is physically and mentally fit.
"I have been cutting carbs since March until now. All I am doing now is working out and practise catwalking at home almost everyday. I believe that I have that very strong mentality which a beauty queen needs to survive in any situation. I'm confident to win the crown as I have been putting 300% effort to this from zero pageant and modelling experience."
Asked why she decided to join the pageant, the Miss Intercontinental Kuala Lumpur 2017 winner said: "Being a beauty queen has been my childhood dream since young. I want to inspire more people through this platform that women can be both beautiful and intelligent.
"If I win the crown I will devote meaningful time in all possible activities that help support the Miss Grand International cause of "Stop the war and violence'. If I don't win, I will take this as a life experience and share the happiness in it by encouraging other ladies to join the competition."
Cass who is 5 feet 7 inches (171 cm tall) is an adventurous person. She loves travelling and exploring all the adventures around the world and enjoys café hopping, swimming and diving. Her talent includes acting, singing, dancing and learning and speaking multiple languages.
"I have always wanted to be a woman who is able to inspire people's lives with my story. My target is to be a successful entrepreneur in the beauty/food line by the age of 30," said Cass on her ambition.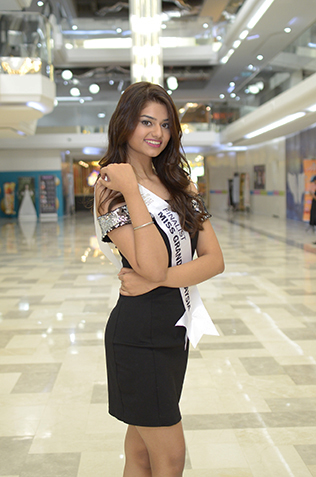 19-year-old dentistry student Parveen Sidhu from Kuala Lumpur who won the Miss Grand Kuala Lumpur 2017 state level pageant said she's been preparing hard for the past months.
"I practice in front of the mirror everyday, be it my introduction or my catwalk. It is very important to use the right intonation to project your voice naturally. In order to master my catwalk, I have to wear my high heels everyday and learn to feel comfortable.
"This pageant aims to empower women and make them confident and I definitely have learned how to embrace our differences and boost my confidence level. if I want to see a change in myself, I will have to be the change."
When asked on her chances of winning the title of Miss Grand Malaysia 2017, Parveen said: "Winning a pageant is about discovering yourself as an individual, stepping way out of your comfort zone to prove to yourself that you can achieve anything in the world as long as you believe in yourself. It's about becoming a role model to people out there who can relate to you as we often idolise people whose experiences are relevant to us.
"If I win the crown, I will use this opportunity to empower others in line with our advocacy of stopping war and violence because war can be perceived in several diverging conceptions including the wars that take place within ourselves. If I don't win the crown, then I will not give up. I am not one to be defeated easily. I will continue to work on myself."
The 5 ft 9 inches (175 cm) tall lass enjoys reading and playing the piano as well as the classical harmonium.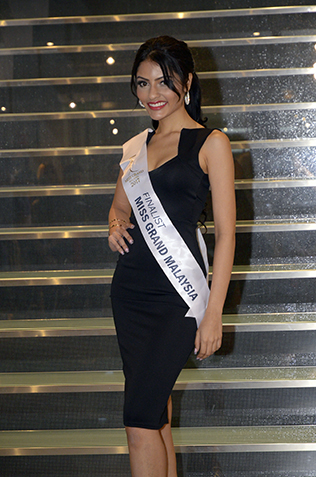 Towering at 5 ft 8 inches tall, Sanjna Suri, 26, from Kuala Lumpur hopes to be crowned the next Miss Grand Malaysia beauty queen.
On her preparation for the finals, Sanjna said: "I tried minimising carbs, practiced my catwalk a million times, learned a lot about styling and grooming, and practiced on common pageant questions. I lost 23 kgs and finally I'm so glad I'm standing here today."
The pharmacist and professional singer is no stranger to pageants and modelling competitions. She has been crowned Miss Scuba Malaysia 2015, winner of Face of Malaysia 2017 and competed in Face of Asia 2017 International Model for Asia Model Festival 2017. She competed in Miss Malaysia India Global 2014, where she won the Miss Popular subsidiary title and was placed Top 5 Talent in Miss Scuba International 2015.
On her reason for joining the pageant, she said: "It has been a dream of mine to represent Malaysia in an international pageant and to win the title. Miss Grand Malaysia is a good platform as although it is relatively new, it has a strong organisation team and a powerful message to stop war and violence which i feel would be the perfect platform for me to showcase my talent and bring home the title for Malaysia."
Sanjna loves singing, traveling, gymming, shopping, watching psychological thriller movies, as well as hanging out with loved ones and her puppy.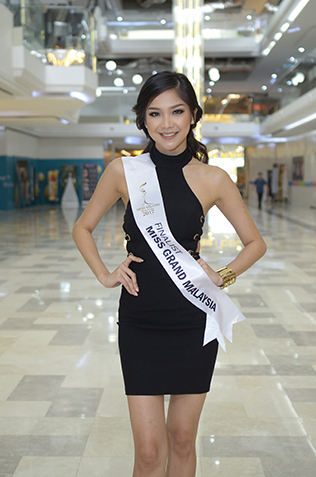 20-year-old Felcy Julian, a Kadazan from Kota Kinabalu is a professional DJ. She is full of confidence having gone through the various training sessions such as photoshoot, catwalk and public speaking during the Miss Grand Sabah pageant.
"I am not afraid of anything and willing to take on new challenges. I am pageant ready and very confident with myself."
The Miss Grand Sabah 2017 winner standing 5 feet 6.9 inches (170 cm) tall, has pageant experience. She was crowned Miss Sabah Earth – Air 2015 and Miss Malaysia Eco-Tourism 2015. She competed in the Miss Gala Night DBKK 2015 (Sabah Harvest Festival Queen) where she won two subsidiary titles of Miss Best Catwalk and Miss Personality. At the Miss Malaysia Earth 2015 pageant, she won two subsidiary titles of Miss Facebook and Miss Best in Swimwear.
"I joined this pageant to have a sense of achievement and fulfilment. Likewise, the experience and memories are worth beyond measure for widening my social horizon and understanding of people," said Felcy.
Her interests include travelling and DJing.