AniManGaki 2017 gets biggest crowd yet
The ninth annual AniManGaki 2017 held at Sunway Pyramid Convention Centre, Petaling Jaya on 19 & 20 Aug have brought out the largest crowd to ever attend with over 18,000 Animation, Comic, Cosplay, Games (ACG) enthusiasts.
AniManGaki committee in charge of public & media relations Jerry Chua said he was very pleased with the high turnout.
"Our attendee record has been broken for the 9th time in a row, with a staggering 18,500 attendees over both days!," he said.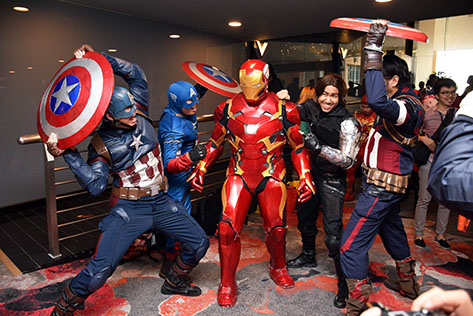 Attendance increased by more than 10% over last year's 16,500, making 2017 the largest attendance ever for AniManGaki, and will likely continue to grow each year at a steady pace since its inception in 2009.
The 2-day event was packed with cosplay, animation, comics, games, competitions, stage performances, exhibitors, traditional games, fighting games, as well as figurine exhibition, art galleries and artist market. This year, there were about 120 doujin booths and 47 exhibitors offering exclusives that fans won't find elsewhere
The stage performances included some of the biggest names in Japanese music scene such as the 5-piece Japanese pop-rock band The Crestfall Band, anime rock band 5 Minute Heroes, Harmonia ACG, an all-girl amateur group Deltarhythm, Nandemo Ii and Yume.
This year's event featured several international guests, such as Joelle Strother, an American-Japanese singer from the "Final Fantasy" franchise; D.Watt, a Japanese DJ and producer with works under Bandai Namco and SEGA; and Ying, a Hong Kong performer and celebrity cosplayer.
There were score of cosplayers inside and outside the convention halls dressed in elaborate costumes and posing for photographers.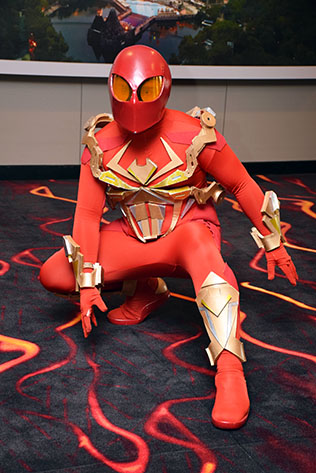 Freelance prop maker Shazni Abdul Ghani, 31, from Mont Kiara, Kuala Lumpur who came dressed in Marvel Heroes character Iron Spiderman costume said he took great pride in making all his cosplay costumes himself.
"I learned how to make my own props from YouTube. You can find such free tutorials on prop and costume making. I constructed my first lightsabers after being inspired by Star Wars movies. It was meant to be just recreational and a hobby but when my friends saw the lightsabers that I made, they loved them.
"Since then I have been getting lots of request and orders and making and selling them as such," said Shazni who has since turned to making full body suits and weaponry made with PVC pipe and EVA foam.
"I am just like the Iron Spiderman, confident and independent being able to make things on his own. He's my superhero!" quipped Shazni who is a member of TUC club (The Ultimate Cosplayers).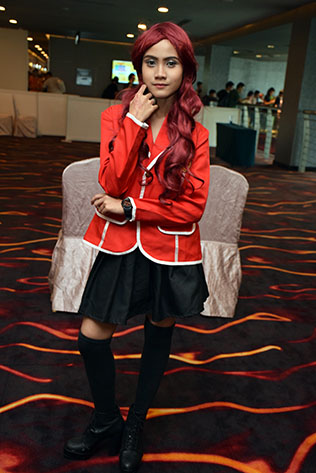 Unit trust and insurance agent Awiena Wong, 18, from Damansara Kuala Lumpur chose to cosplay the character Inori Yuzuriha, the main heroine of the anime series Guilty Crown.
"I usually enjoy the fun cosplaying characters that I love. I want to be able to be myself just like Inori. She is such a loving yet brave girl able to outmatch her opponents by herself," said Awiena Wong who started cosplaying a year ago.