United Sabah Alliance is not BN-friendly, says Lajim
Parti Harapan Rakyat (Harapan) president Datuk Seri Panglima Lajim Ukin has dismissed claims that some United Sabah Alliance (USA) leaders were Barisan Nasional (BN) friendly or received funds from the ruling coalition.
"These are all slander because they have no other issues (to talk about). Do not be fooled by the allegations made by anyone, including local parties, as they are merely jealous.
"We are not fighting for our own personal interest. We are fighting for the people of Sabah," Lajim said at the Sabah's Rights Convention for Kota Kinabalu zone organised by the USA here yesterday.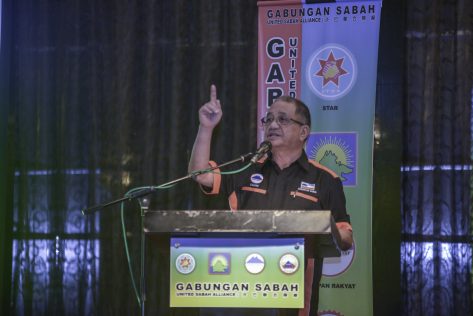 The event was officiated by USA chairman Datuk Hj Mohammad Noor Hj Mansoor.
He said USA component parties must defend themselves against these allegations and urged alliance members to also be confident in their own leadership.
"If we are not confident, how can we expect people to be confident (about USA)?" he said.
On another note, Lajim urged the component parties in USA to unite and support each other in order to win the election instead of fighting over seat allocations and turning the alliance into a laughing stock.
"We cannot keep thinking about a quota system (for seat allocation), but rather how to win in the constituencies which we contest in," he stressed.
Lajim said members should also work hard regardless of whether they would be fielded as a candidate.
"We must be united, hardworking and work as a team to achieve Sabahans' aspirations," he said.
Meanwhile, Sabah Progressive Party (SAPP) president Datuk Seri Panglima Yong Teck Lee said Malayan parties should not enter Sabah.
Elaborating, he said the Malaysian government had assisted in the drafting and preparation of the Bangsamoro Basic Law (BBL) agreement between the Moro and the Philippine government.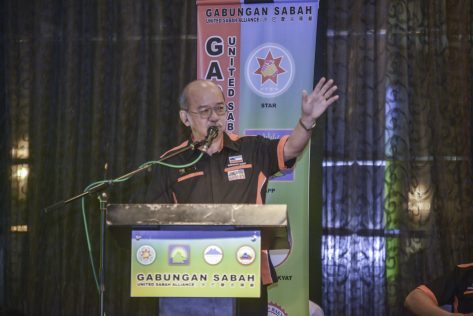 "The BBL states that parties from outside Muslim Mindanao cannot penetrate Muslim Mindanao, and parties from outside southern Philippines cannot enter the southern Philippines.
"Malaysia has agreed that other parties cannot enter Muslim Mindanao. With the same principle, Malayan parties should not enter Sabah," he noted.
Yong also reiterated his call for the issuance of Sabah identification cards for genuine Malaysian Sabahans as well as West Malaysians and Sarawakians who have long resided in the state.
He also expressed his confidence on achieving the USA's political struggle for full autonomy and Sabah's rights.
The USA comprises four parties, namely Parti Solidariti Tanah Airku (Star), Sabah Progressive Party (SAPP), Parti Harapan Rakyat (Harapan) and Parti Perpaduan Rakyat Sabah (PPRS).
Also present were Star president Datuk Dr Jeffrey Kitingan, PPRS president Datuk Seri Mohd Arshad Abdul Mualap and organising chairman Datuk Richard Yong.