30 Int'l contestants to compete in Miss Cosmopolitan World '17
Contestants from 30 countries, including Malaysia, are converging in Kuala Lumpur to compete to be crowned the next Miss Cosmopolitan World 2017.
In welcoming the contestants to Malaysia during a press conference held on Sept 4 at Putrajaya Marriott Hotel, Miss Cosmopolitan World (MCW) founder and production director Amelia Liew said the international delegates will experience some of Malaysia's myriad attractions and tourist destinations.
They will be taken through many activities in the next two weeks leading up to the grand final on Sept 16 at Putrajaya Marriott Hotel.
These activities include visits to tourist spots in Kuala Lumpur, Penang, Kuala Selangor, Sekinchan and Semenyih, as well as making special appearances, sponsor visits, funds raising for charities and visits to children homes. 
At the press conference, the contestants clad in their all-white skirts, pants or gowns and sashes, introduced themselves to the large crowd of guests and members of the media present.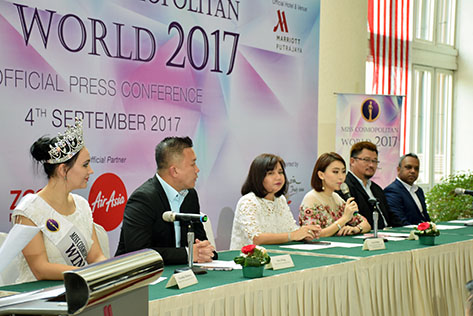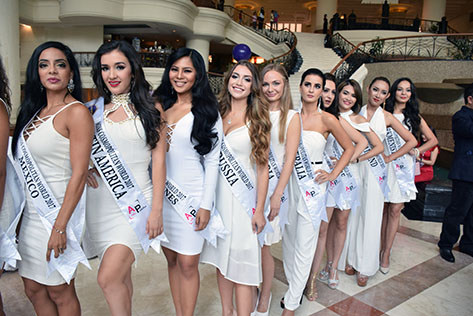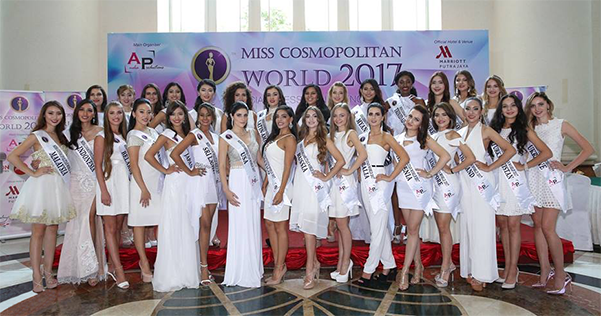 Also present were MCW director Steve Wong, Miss MCW 2016 Veronica Markova, Putrajaya Marriott Hotel marketing & communication director Farah Halim, Aforadio CEO William Lim and motivational speaker Tahir Hussain.
The home-grown international pageant is aimed at promoting greater awareness of Malaysia to the world through participation of international delegates who receive worldwide attention. The pageant enjoys the support from Tourism Malaysia and Penang state tourism.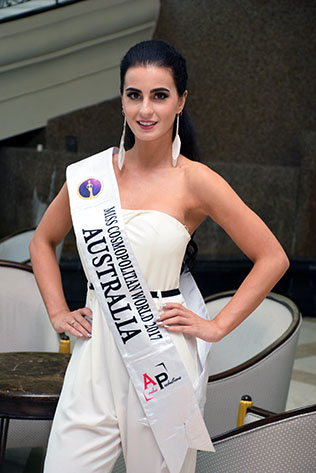 Miss Australia Chelsea-Anne, a 21-year old part-time model from Newcastle said she is excited to represent her country.
"This is my first international pageant that I am participating and I am very excited about it," she said, adding that this was her first trip to Malaysia.
"This is a lovely country and I am excited to learn and appreciate more about it. Unfortunately, I just can't handle spicy food. Everything is spicy here. But I love desserts and I am certainly looking forward to try out the varieties of Malaysian traditional desserts and any fresh fruits," she said.
Speaking about her hopes, Chelsea said: "I am optimistic and I am confident of myself."
The 166 cm (5' 5.3") tall beauty has won several titles and awards including Supermodel International Australia 2015 and Miss Earth Australia Water 2014. She was a national finalist in Miss Sydney 2015 and MAQuest 2015, and a NSW state finalist in Miss Galaxy 2015.
Chelsea is an ordinary girl who loves challenge and has a strong desire to travel.
"I love to travel.  I quit my job as admin manager six month ago in order to travel the world. I have experienced different cultures and seen different places having travelled to 23 countries funded from my own savings."
Asked which country she liked most, Chelsea replied, "Spain to live and Egypt to visit. I love the Spanish language. It is such a beautiful language and Egypt was an enriching experience with different cultural exposure."
Chelsea said her two roommates, Yana Grigoryan (Miss Armenia) and Liubou Shapovalava (Miss Belarus), both spoke Russian but she has no problem handling the language barrier.
"We kinda communicate and understand each other along with gestures and facial expressions," she quipped.
Chelsea has done her graduation in Business Marketing and will be pursuing her bachelor degree in social work. She has plan to do volunteering at an orphanage in Fiji after the pageant.
Chelsea loves gymnastic and beaches and enjoys swimming in the water. She keeps a Rottweiler at home.
MISS COSMOPOLITAN WORLD 2017 FINALISTS
 Armenia  –  Yana Grigoryan
 Australia  –  Chelsea-Anne
Belarus  –  Liubou Shapovalava
China  –  Theresa Sun
England  –  Louise Toms
Greece  –  Alexandra Vozikaki
India  –  Priyadarshini Borah
Indonesia  –  Sheryltha Pratyscha
Japan  –  Emiko Kano
Kazakhstan  –  Alua Azilkhanova
Korea  –  Ruy Anna
Kosovo  –  Emilia Dobreva
Latin America  –  Ruth Jovana
Lithuania  –  Raminta
Malaysia  –  Chanelle Wong
Mexico  –  Jessica Parrilla
Myanmar  –  Myat Noe Chit
New Zealand  –  Zhane Seymour
Philippines  –  Krystelle Mhae
Poland  –  Malgorzata Habdas
Russia  –  Kseyina Makouskaya
Siberia  –  Ekaterina Makarova
Singapore  –  Gladys Chan
Sri Lanka  –  Anjali Vinodya
Taiwan  –  Hsieh Ling-Tzu
Thailand  –  Thitirat Supopak
Trinidad and Tobago  –  Semoy De Four
Turkmenistan  –  Gulnur Annaberdeyyeva
Ukraine  –  Yuliia Medvedieva
USA  –  Stephanie Ellen Almeida