Fashion for Love campaign to help 300 needy school kids
The Giving Bank, a NGO and non profit fundraising organisation helping the poor and needy, kicked off its community educational fund-raising project with a Fashion For Love charity gala dinner to be at HGH Convention Centre in Sentul, Kuala Lumpur on Oct 8, 2017.
Ivlyn Tan, main organiser and director of Creight Event & Services, speaking at a press conference to present the Fashion For Love campaign, said funds raised from the charity dinner will benefit 300 school-going children in 2018.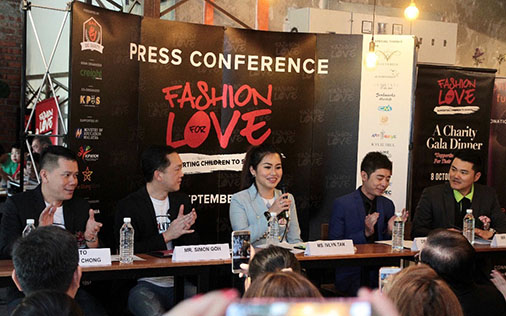 "We have selected 12 schools which are beneficiaries of the campaign for students from low-income groups. The 300 children who will be going to school in 2018 will be able to use the funds to pay for their school fees, or to purchase items such as books, stationaries, school uniforms, school bags and shoes," she said.
The 12 schools selected are SJKC Bukit Tangga, SJKT Bukit Beruntung, SK Bukit Beruntung, SJKC Kalumpang, SJKC Kerling, SJKC Serendah, SJKC Bukit Fraser, SJKC Batang Kali, SJKT Ladang Sg. Choh, SK Taman Bunga Raya, SJKC Choong Wen and SJKC Mun Choong.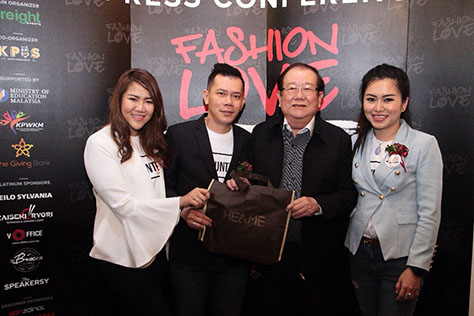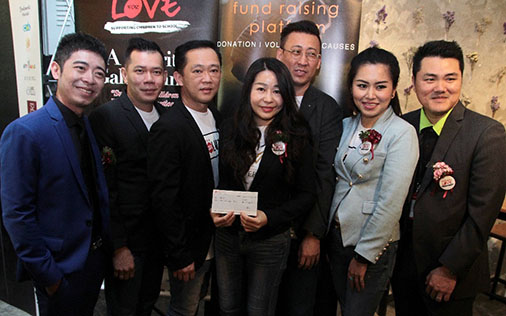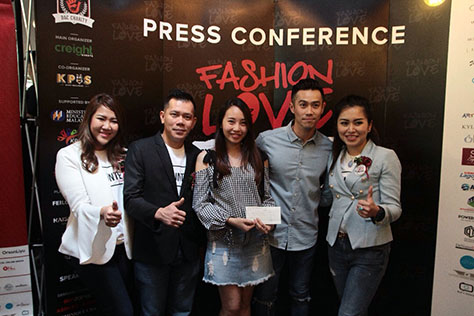 Four celebrity fashion designers, including Ashley Wong, Orson Liyu, Dominique Chan and Malaysia's top award-winning fashion designer Bon Zainal, who won the Mercedes-Benz STYLO Fashion Awards – 'Best Designer Showcase' 2015", will present their collections on the catwalk during the dinner show.
Ivlyn Tan also announced that the Fashion for Love team has aligned with Optopreneur College Kuala Lumpur to offer 100 scholarships to study Diploma in Business for SPM leavers who could not afford to pursue higher education. There will be a selection process of interviewing and performing due diligence to ensure student eligibility based on the criteria set.
"Joining us along with us today are children from seven orphanage homes which need love and support too. To keep the homes running, we will also be apportioning some donation funds to cater for their monthly usage," she said.
The seven orphanage homes selected are Pertubuhan Kebajikan Dan Pendidikan Anak Yatim Dan Miskin Raudhatul Nurr Jannah, Persatuan Kebajikan Sweet Care Selangor & Kuala Lumpur, Persatuan Kebajikan Damai Chempaka Kuala Lumpur & Selangor, Lighthouse Children Welfare Home Association, Rumah Victory Children Home, Persatuan Kebajikan Ti-Ratana Kuala Lumpur and Rumah Kanak Kanak Angels Kuala Lumpur.
The guest of honour present at the press conference was Datuk Seri Michael Chong. Also present were Creight Event founder Simon Goh, Giving Bank founder and president Dr Janson Ang, presenter Dato' Adrian Chong and Malaysia celebrity fashion designers Ashley Wong, Bon Zainal, Dominique Chan and Orson Liyu, as well as celebrities, sponsors, partners and members of the media.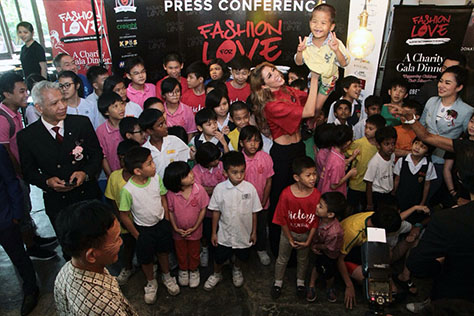 The Giving Bank founder and president Janson Ang said the simple objective of the project was to raise funds from the public to serve 300 multi-racial children in need.
"These children are from poor family backgrounds and their parents could not afford to send them to school. We believe everyone deserves an equal right to education. Going to school and seeking education is a very important element at every stage of growth. This will give the child hope and a chance to experience something that they've never experienced before and help them become useful members of the society.
"We are here together, to bring love and happiness to these children. We want this to be special and meaningful. We want them to know that many people out there are loving them," he said.
He said the funds raised are channelled to selected charitable campaigns and the public can access the website to gain information about the campaigns which fall into three main categories: Education (providing low-income groups with basic education needs), Health (providing low-income groups access to medical aids and treatments) and Humanity Culture (helping communities to greater understanding of various cultures and religions in Malaysia and strengthening positive relationships).
The Giving Bank, with its tagline "The Bank That Gives", aims to take the lead in encouraging communities, societies and corporations to actively participate in charity, and to adopt it as a daily routine in their everyday lives.
The Giving Bank's online fundraising platform enables the public to pledge their support or contributions through The Giving Bank website at www.thegivingbank.com with just a click of a mouse.