Death of endangered Malayan Tapir sparks public outrage
An adult male Malayan Tapir which has accidentally wandered into a housing area in Hulu Langat was killed due to rescue efforts gone wrong.
The Tapir is believed to have wondered from the nearby Hulu Langat Forest Reserve which is currently threatened by road building and housing development.
The lost Tapir was found trapped in a drain by the residents at Taman Desa Saujana, Batu 14, Hulu Langat who then alerted APM (Malaysia Civil Defence Force) and Fire and Rescue Department Malaysia (Bomba).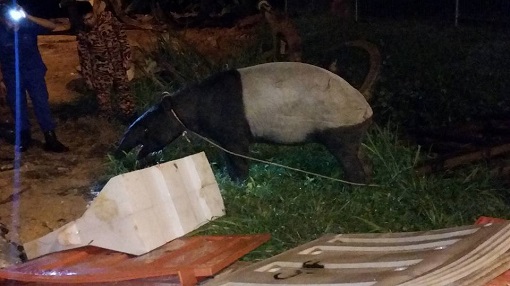 Initial investigations by PERHILITAN (the Department of Wildlife and National Parks) revealed that three ropes were tied around the tapir's neck in order to pull it out of the drain as rescue efforts went underway between 11.40pm until 1.30am with the public's help.
"Strangulation, stress and exhaustion from trying to run away from the crowd of people may have caused the tapir's death." PERHILITAN Director, Datuk Abdul Kadir Abu Hashim said. The tapir's carcass was later found with its trunk, skin, right leg and ears mutilated when PERHILITAN officers arrived to collect it at 10.30 am.
A post by Facebook user Khairul Azri with pictures and videos of the incident has since gone viral and been shared by over 6000 Facebook users online.
Khairul Azri posted on Facebook  "The forest is cleared due to EKVE (East Klang Valley Expressway), so the tapir wanders  to housing area.  JPAM and BOMBA were called (to rescue), It was tied like a sacrificial animal for slaughter. In the end left to die by the roadside"
"Please remember that most of the time these animals are more afraid of you than you are of them. Tapirs are herbivores, they have bad eyesight, they're usually harmless unless they feel threatened" Sumisha Naidu shared.
According to Harian Metro Online, members of the public have already started efforts to pull the trapped tapir to safety by tying a rope before the authorities arrived. The tapir was too weak when APM and BOMBA arrived due to the tight rope around its neck and head injuries. After leading the tapir back to road from the drain, they then tied its legs and cut the rope around its neck, but it had no pulse and was unresponsive after that.
The Malayan Tapir is an endangered species and it is believed to have only fewer than 2,500 left in the wild partly due to their habitats being cleared for development.
Henry Goh, the President, Malaysian Nature Society has called for relevant authorities to work together and take immediate steps to mitigate such unnecessary deaths of wildlife, some of which are already classified as critically endangered.
"A suggestion to set up a wildlife rescue unit within the Department of Wildlife and Parks (Perhilitan) is a good one and should be looked into. More could be done on creating public awareness, education and information dissemination pertaining to the behaviour and the handling of wildlife. "Henry Goh said.