Pau Man music video making waves on YouTube
TOC Production's latest, hottest music video Pau Man is a smashing hit raking in over 1.5 million views on YouTube since it took off on 19th July 2017, says its director Excella Chong at a splashy launch press conference at Atria Shopping Gallery, Petaling Jaya on 18th Oct 2017.
The Malaysia pau truck inspired music video tells the story of a pau man selling his 'pau' (steamed buns) from a food truck and living his dream that everyone loves his 'pau'.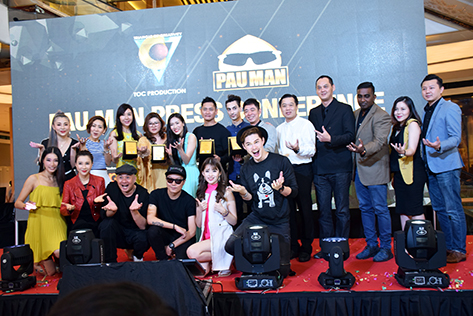 "We are excited for the new music video Pau Man because this is the first Malaysia K-pop concept dance with electronic dance music video ever produced," said Chong.
The 5 min 19 seconds dance-filled music video was played in full over the large screen to a packed audience. Artists who starred in the video graced the stage in person during the press conference. There were also dance and songs performances by some of the artists.
Watch the music video for 'Pau Man' below.
The music video was shot at Mega Star Arena in Jalan Kuchai Lama, Kuala Lumpur. The full cast of stars who featured in the video included Malaysian actor James Wong, Malaysian rapper Point Blanc, supermodel Amber Chia, singers Winnie K and Angeline Loo and Malaysia's first top male supermodel Wilson Tan.
Others who made an appearance in the video were DJ Alexis Grace, female rapper and actress Ruby Yap, music band Ex's artists Sanjna and Robyna, Miss Petite Malaysia 2015 Audrey Lee and K-pop dancer Nikki Lim.
Following the phenomenal success of Pau Man, the production house is lining up plan for a Pau Man Exclusive Red Carpet Gala event scheduled for 3rd Feb 2018.  The red carpet event will be attended by director and music producer Alisam and all the stars of Pau Man, plus other VIP-guests and celebrities.